'I lost millions through cryptocurrency trading addiction'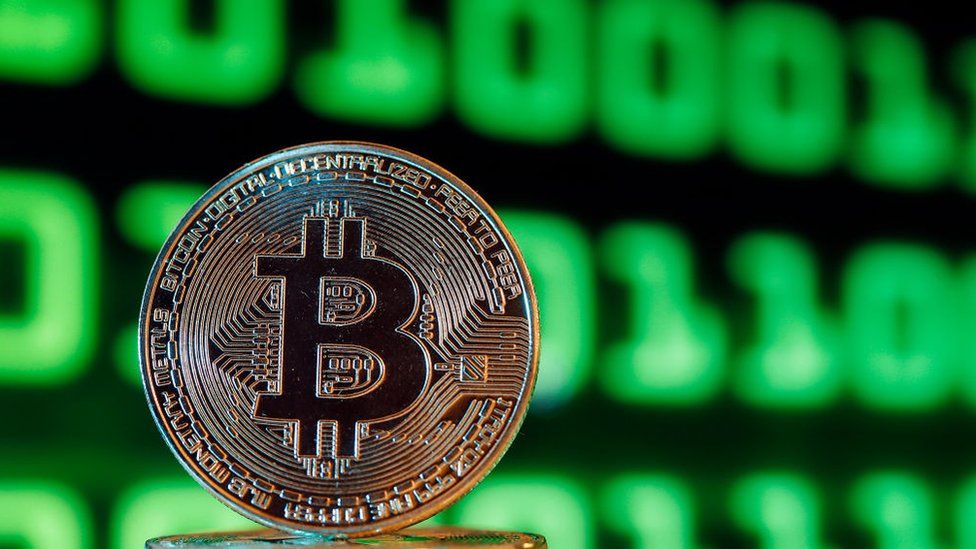 Jake lost millions of pounds trading cryptocurrencies. He does not want his identity known because he is still in treatment at one of the only hospitals in the UK that treats people who are obsessed with gambling on the value of the virtual currency.
Jake first bought Bitcoin - the most popular cryptocurrency - in 2015, but it was not until a big win a few years later that his trading spiralled out of control.
"I can pinpoint the exact moment it became a problem," he said. "I had been eroding the sum I put aside, but I entered a trade, and I was willing to risk that last amount I had.
"I ended up making back pretty much everything I lost in a single trade. The feeling was one of absolute euphoria."
Jake told BBC Scotland's The Nine that this high, coupled with difficulties in his marriage and personal life, quickly led to an addictive cycle.
His job at that time meant he was in charge of millions of pounds. He said that he soon took to trading money that was not his in the hope of repeating his first success.
He said: "The first time I took it, I lost it all in about 20 minutes one night. The market moved very rapidly and I liquidated everything.
"It was about 2am. I went back to bed and had to lie down next to my wife. She had no idea what I had been up to."
Jake had been facing criminal charges for embezzlement but was able to pay back £1.5m to his employer with the help of his family and is now in treatment for his addiction.
Cryptocurrencies are digital money that is not issued by a bank. You can trade and invest these currencies like any other - and there are virtually no barriers to entry. The absence of regulation means the market can go up incredibly fast.
During the lockdown, the total value of all cryptocurrencies increased from about £175bn to more than £1.75tn.
Figures from the UK's financial watchdog show that hundreds of thousands of people in the UK hold these digital currencies.
But since the start of May, the market reached its highest-ever level and lost more than £1tn just a few weeks later.
With something this volatile, when you win, you win big. When you lose, you hit rock bottom.
'The crack cocaine of gambling'
According to experts, cryptocurrency trading addicts show the same kind of behavioural addictions as problem gamblers.
There are no figures for the number of people addicted to cryptocurrency trading but Tony Marini, the lead counsellor at the cryptocurrency addiction clinic at Castle Craig hospital in Peebles, said they are seeing more and more people in Scotland.
"This is the crack cocaine of gambling because it is so fast," he said. "It's 24/7. It's on your phone, your laptop, it's in your bedroom."
The clinic has treated more than 100 people for cryptocurrency addictions in the past few years. It is the combination of constant availability and extreme volatility that leads people to his door, Mr Marini said.
"There are so many people out there that are trading cryptocurrency that are making money," he said. "And they're telling everyone that they're making money. We are not hearing from the people that are losing money."
'You carry horrendous guilt'
It is not just the market that can cause problems. The technology that enables cryptocurrencies is notoriously complicated, and if you are not careful, you could easily find yourself investing in a scam.
When Jen McAdam's father died a few years ago, she was still working in IT.
She heard about what she thought was a once-in-a-lifetime investment opportunity, which turned out to be a scam.
"My friends and family invested," she said. "Collectively, our total loss so far has been over 250,000 euros (£215,000).
"You carry horrendous guilt, shame, regret. You're just in a place of devastation."
Jen wants people to know the risks of investing in these assets, and warns those who do not understand the technology to stay away.
"If you want to invest, and you don't have any knowledge, you're gambling," she said. "You are taking a very high risk."
For some, the investment has paid off. Cameron has seen an amazing turnaround in his fortunes.
As a freelance musician, opportunities have been few and far between this past year. He can sum up how lockdown affected him in one word. "Devastating," he said.
"Gigs came to an end, schools closed, all my sources of income completely vanished," Cameron said.
When lockdown hit in March last year, he saw the market for cryptocurrencies was growing, and he decided to invest.
One year on, and in an otherwise difficult economy, he now has things to be cheerful about.
He said: "It's been a really great year of these assets increasing in value to the point where, at least for the short-term, I'm not going to have any financial worries.
"If I could have told myself last year that I'd have this sort of reserve, I don't know what I'd think.
"It's been such a relief."