School pupils to finally find out appeals process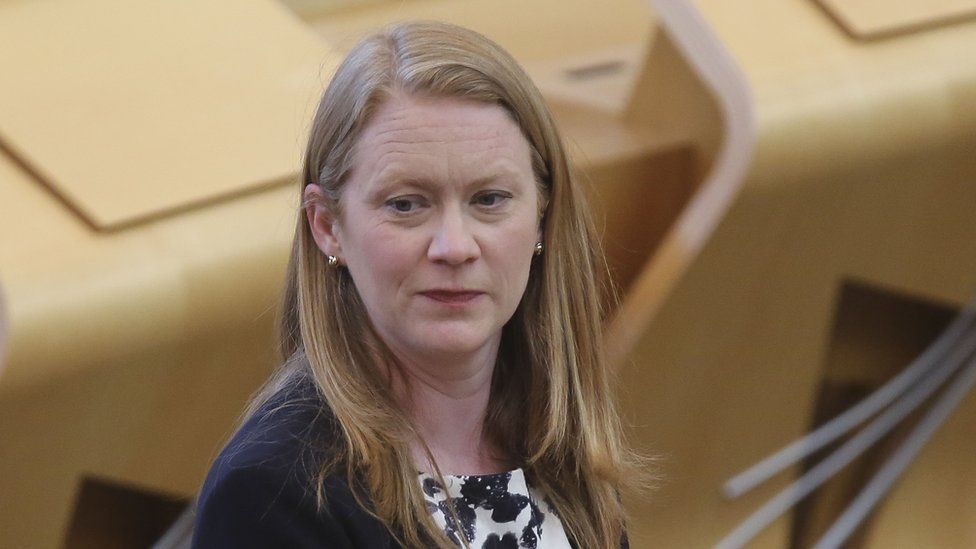 Scotland's new education secretary is expected to make a statement to parliament about the appeals process for the Highers and National 5s.
Exams for senior-phase school pupils have been cancelled for the second year in a row due to Covid restrictions.
Grades are instead to be awarded on the basis of "teacher judgement of evidence of learner attainment".
A plan for how pupils will be able to make appeals against the grades was promised by early May at the latest.
The Scottish Qualification Authority (SQA), which is responsible for the awards, failed to meet that deadline.
Shirley-Anne Somerville, who took over from John Swinney as education secretary two weeks ago, promised MSPs last week that she would finally announce the plans, just weeks before school pupils are told of the grades that will be sent to the SQA.
The Alternative Certification Model was meant to rely on teachers gathering evidence throughout the school year.
But most of Scotland's senior pupils were unable to attend school between Christmas and Easter because of lockdown restrictions, meaning they had to attempt to learn remotely.
They returned in the middle of April to sit multiple assessments as part of the "demonstrated attainment" required for the awards process.
Many students and parents claimed these assessments were "exams by another name" but they were conducted with less preparation and often in a more intensive time period.
They said the assessments were causing more stress and anxiety than the usual qualification system.
The "provisional" grades awarded by teachers will be given to pupils before the end of term in just over three weeks' time.
The grades will remain provisional until issued by the SQA on 10 August but there are reassurances that they will not be changed because of an algorithm or by external marking.
So pupils have been keen to learn how they can appeal against a grade they feel is incorrect or unfair.
Ms Somerville told MSPs last week that the focus of schools and colleges had been on ensuring that all learners got the right and fair result first time.
"Nonetheless, I appreciate that every approach must allow for appeals and we must ensure that we get this right and deliver a fair and credible process for that too," she said.
Labour's Michael Marra said: "It is unforgivable that teachers, families and most importantly young people, do not yet know the conclusion of this process.
"The SQA has shown utter disregard for the pupils and staff involved and must be held to account. The lack of clarity around appeals is causing warranted concern and anxiety.
"The SQA have treated learners with contempt throughout the pandemic, and missing this deadline is the latest example of that."
Ross Greer, the Scottish Greens' education spokesman, said the SQA had "lost the confidence of parliament and the public".
He said it was "utterly unacceptable" that pupils had been forced through "exams in all but name" without having any idea how the appeals process would work.
Mr Greer said: "I am seriously concerned about the SQA's ability to handle a significant volume of appeals and the effect this could have on university and college admissions."