Mesh implants: Scottish government to reimburse removal surgery cost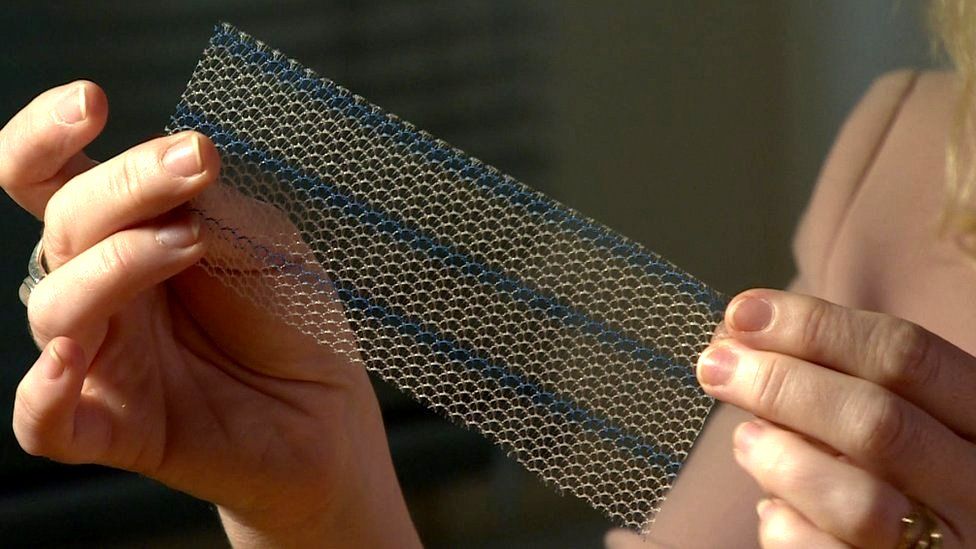 Women who paid to have mesh implants removed privately will have the cost of the surgery reimbursed, under Scottish government proposals.
A new bill lodged in the Scottish Parliament would see the government pay, with the cost of each procedure estimated to be £16,000 to £23,000.
The use of the implants was stopped in Scotland in 2018.
It came after hundreds of women were left with painful, life-changing side effects.
The proposals will also allow women who prefer to have mesh removal surgery outside of the NHS in future to do so free of charge, and with travel costs paid for.
Women who travelled abroad or to other parts of the UK to have private surgery are also eligible to apply.
Mesh implants have been used to treat conditions some women suffer after childbirth, such as incontinence and prolapse.
Women who complained about side effects from the procedure often had their concerns dismissed as being "women's problems".
Marian Kenny, from the Mesh Survivors Group, said the Scottish government did now appear to be fulfilling some of the issues highlighted by the organisation in its charter.
Ms Kenny said she could no longer trust NHS surgeons to treat her after being "lied to" in the past.
"I was trying to get to America to see Dr [Dionysios] Veronikis. I'm hopeful that he has tendered and his tender will be accepted and he'll be on the list of surgeons because he is my first port of call.
"The reason why is he has a proven track record. We know we trust him because there's lots and lots of women who have been to see him."
Mesh implants were suspended in Scotland in 2014 "in all but exceptional circumstances", before being halted completely in 2018.
First Minister Nicola Sturgeon has previously made a formal apology on behalf of the government to women who have been affected.
Introducing a reimbursement scheme had been an SNP manifesto pledge ahead of last month's Scottish Parliament election.
The mesh, usually made from synthetic polypropylene, is intended to repair damaged or weakened tissue
Over 20 years, more than 100,000 women across the UK had transvaginal mesh implants, which are used to treat pelvic organ prolapse (POP) and stress urinary incontinence (SUI), often after childbirth
While the vast majority suffer no side effects, the use of mesh in Scotland was suspended except in "exceptional circumstances" in 2014 after it emerged some women suffered painful side effects
Use of the procedure was halted in 2018
Once the mesh is implanted, it is very difficult to remove
Health Secretary Humza Yousaf told BBC Scotland that the parliamentary timetable would normally mean the new bill would become law early next year if it is backed by MSPs.
But he said the government was willing to "go quicker" than that if parliament was able to speed up the process of scrutinising and passing the legislation.
But Mr Yousaf admitted that he had heard "powerful testimonies" from some women who do not trust Scotland's health service to resolve their issues after being "let down" when they presented with complications in the past.
He said the government was working to rebuild confidence in the Scottish services, but that women could instead be referred to specialist NHS clinics in England if they prefer.
For those who want a private provider, the NHS is currently carrying out a procurement process that will bring on board two private providers who will carry out surgery, with the government meeting the cost.
Mr Yousaf said he hoped to be in a position to confirm who those two private providers will be by the middle of next month.
The health secretary added: "I absolutely recognise the serious distress that may have led women to using their own funds to seek mesh removal surgery privately.
"This legislation aims to help those who have undergone private treatment by allowing these past costs to be refunded."
He also paid tribute to politicians from different parties - including Jackson Carlaw of the Conservatives, the SNP's Alex Neil and Labour's Neil Findlay - who had worked together to highlight the plight of the affected women.
In a Holyrood debate last week, opposition politicians called for a "renewed and urgent focus" on women's health, and said the Scottish government's record "wasn't even close to acceptable".
Responding to the announcement, Mr Carlaw said it was "a significant victory for the brave women who have tirelessly campaigned for years for justice"
He added: "There is now hope that the progression of this bill can be the final chapter of the horrific trauma they have suffered. However, critical questions remain that the SNP government must clarify for victims.
"They must listen to their calls and guarantee that Dr Dionysios Veronikis will be one of the private providers appointed to treat women in the future. His work on mesh is world-leading and confirmation of his involvement is the least these heroic women deserve after all they have been through."
It was announced last year that women who have suffered complications following vaginal mesh surgery would receive one-off £1,000 payments from a £1m Scottish government fund.
Other patients have been offered an independent review of their medical records, after undergoing a procedure where they thought their implants were being completely removed but later found out some of the mesh was still attached.
The government has pledged to publish a women's health plan within the next three months.