Covid restrictions ease as Scotland moves to level zero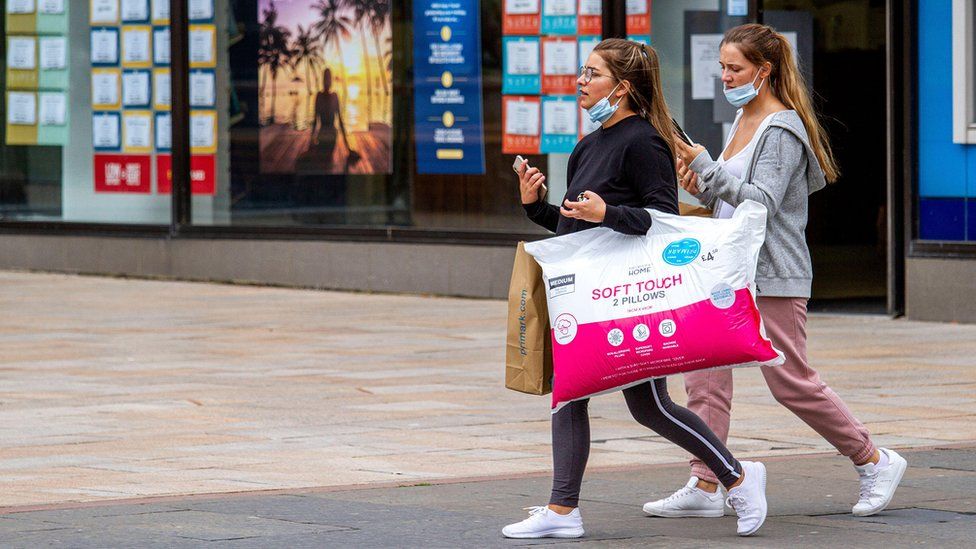 Scotland has moved to the lowest level of Covid restrictions as it continues on its roadmap out of lockdown.
Until now only some islands had been in level zero but the rest of the country was in level one or level two.
The move to level zero means more people will be allowed to meet indoors and attend weddings and funerals.
However, some limits on outdoor meetings are to be maintained, and the mandatory use of face coverings is to remain in place for "some time".
Under the level zero rules up to eight adults from four households can meet indoors at home, and up to 10 can meet in a pub or restaurant - with no need to pre-book a two-hour slot.
Up to 15 people from 15 households can meet outdoors and up to 200 can attend weddings and funerals.
Last week, the rules planned for level zero were modified due to the spread of the more contagious Delta variant.
In light of high case numbers, hospitality venues will be required to close at midnight and some physical distancing will have to be maintained outdoors, with different groups of 15 required to stay at least 1m (3ft 3in) apart in public spaces - meaning there may be limits on some outdoor events.
A "gradual" return to office working has now been put back to 9 August.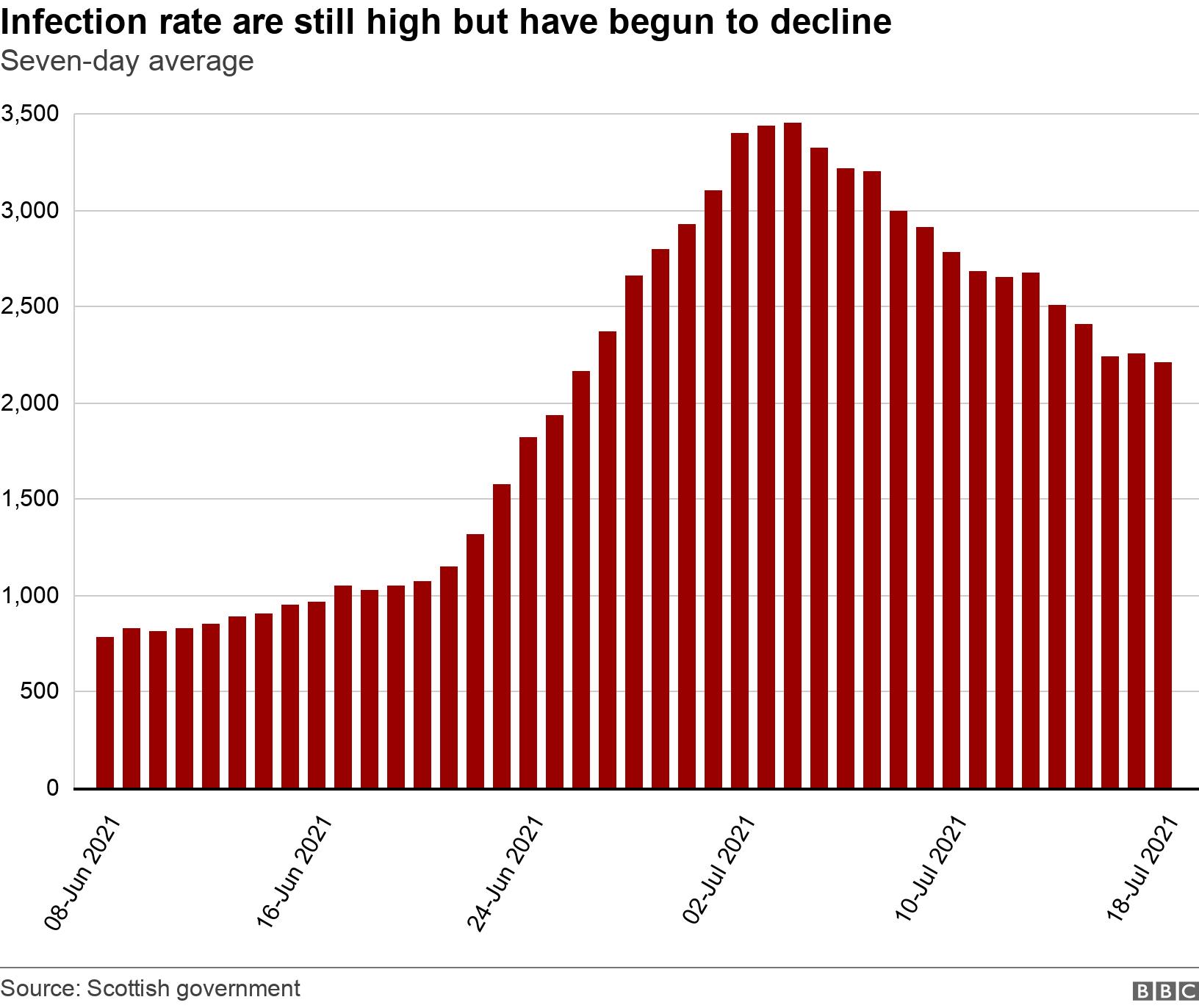 New rules for travellers also come into force. Fully-vaccinated people returning from amber list countries (except France) will not need to quarantine, so long as they take a PCR test after arrival.
Deputy chief medical officer Dr David Caesar said there were "encouraging" signs that infection rates had passed their peak in Scotland.
"We're in a slightly different phase of the pandemic than even some of our closest neighbours in England, Wales and Northern Ireland," he told BBC Radio's Good Morning Scotland.
"The data would suggest that numbers are coming down. The seven-day average is the one that we try and keep our closest eye on... We're obviously cautious, but it's looking like it's heading towards the right direction."
1/ As this chart shows, cases in 🏴󠁧󠁢󠁳󠁣󠁴󠁿 are falling, but still too high. To talk of tomorrow as 'freedom day' (🏴󠁧󠁢󠁥󠁮󠁧󠁿 only remember) is not sensible IMO, given current situation. Vaccines going well and do offer route through - but as we vaccinate, we must ease up gradually…/ pic.twitter.com/ZCo4V8T40x

— Nicola Sturgeon (@NicolaSturgeon) July 18, 2021
On Sunday, First Minister Nicola Sturgeon said talk of "freedom day" as it has been dubbed in England, where restrictions will also ease on Monday, was "not sensible" given the high daily numbers.
Ms Sturgeon tweeted: "Cases in Scotland are falling, but still too high.
"To talk of tomorrow as 'freedom day' (England only remember) is not sensible IMO, given current situation.
"Vaccines going well and do offer route through - but as we vaccinate, we must ease up gradually."
She added: "If you live in or visiting Scotland please abide by remaining safety measures."
The Scottish government has said it hopes Scotland can move beyond level zero from 9 August - the point at which the government aimed to scrap most legal restrictions.
Ministers also plan to remove the blanket requirement for close contacts of those who test positive to self-isolate - as long as they have had two doses of vaccine - at that point.
On Sunday, official figures showed 1,735 new cases of Covid had been reported in Scotland in the previous 24 hours, with 9.8% of tests coming back positive.
Hospital numbers fell for a third consecutive day - there were 511 patients who had recently tested positive on Saturday with 46 of them receiving intensive care.
No new deaths of people with recent positive tests were recorded, but the government noted register offices are generally closed at weekends.
How long has it taken Scotland to get to level zero?
The UK went into lockdown on 23 March 2020. Over the summer, this was eased as the number of cases, hospital admissions and deaths dropped - and some of our freedoms returned.
But when cases started to creep back up again in pockets of the country, new restrictions were introduced at the start of the autumn.
In October the Scottish government published details of its new five-level alert system which came into force on Monday 2 November.
Just before Christmas, it was announced that a new more contagious Covid variant - dubbed the Kent strain, though now known as the Alpha variant - was causing concern.
In May, mainland Scotland - with the exception of Glasgow and Moray - dropped down to level two, with most islands going into level one. The following month other areas also dropped down to level one, and many islands moved to level zero.
But 13 areas - with a combined population of 2.3million in the central belt - remained in level two due to high case numbers.
The whole country was due to move to level zero on 28 June but that was delayed due to the prevalence of a strain first identified in India, now known as the Delta variant.
Almost a third of younger adults are unvaccinated in Scotland, despite all over-18s having been offered a first dose appointment. Are you aged between 18 and 29 and have not had, or do not intend to have, a jab? What is your reason for not taking part in the programme? We would also like to hear from older adults in Scotland who have decided not to have the vaccination.
You can now get in touch with BBC Scotland on the phone messaging service, WhatsApp.