Covid in Scotland: Critical workers to be exempt from self-isolation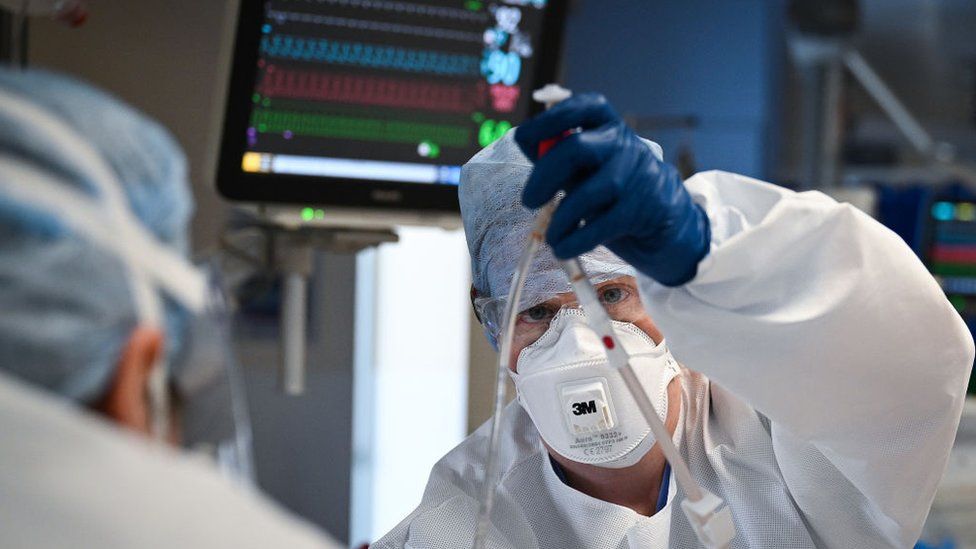 Critical staff working in the health, food and transport sectors can apply to be exempt from self-isolation, under a new Scottish government scheme.
People who work in the emergency services, government and finance could also qualify for an exemption.
But they must be double vaccinated, have a negative PCR test and agree to take daily lateral flow tests.
First Minister Nicola Sturgeon said the changes would "ensure staff shortages do not put key services at risk".
The exemptions would be limited and applied on a "case by case basis and only where absolutely necessary", she added.
Previously anyone who came into contact with someone who had tested positive must isolate for 10 days.
The new scheme will allow employers to apply to the Scottish government for permission to exempt those who work in critical roles and where staff shortages could jeopardise essential services.
The exemption will only be granted where workers have voluntarily agreed not to self-isolate.
The changes come after businesses across the UK were affected by large numbers of workers self-isolating, leading to shortages of some products in supermarkets.
Health and social care also remains under pressure from staff shortages.
In Lanarkshire urgent social care is being prioritised only for the most vulnerable by reducing home care packages "where it is safe to do so" as a result of the "exceptional" pressures on the NHS.
Who can apply for an exemption?
Chemicals
Civil Nuclear
Communications
Defence
Emergency Services
Energy
Finance
Food
Government
Health
Space
Transport
Water
Ms Sturgeon said: "It is essential that lifeline services and critical national infrastructure are maintained and we are implementing these changes now ahead of possible changes to self-isolation rules for close contacts that may apply more generally in future.
"We have seen significant staff shortages in a small number of organisations in recent days and we have worked with them to protect services.
"Clinical evidence tells us we can safely and effectively release some critical staff from self-isolation, with appropriate safeguards. However, this is a very limited change at this stage, to be applied on a case by case basis and only where absolutely necessary."
'Underfunding and understaffing'
The move was widely criticised by unions including Unite, Unison and GMB Scotland.
"We believe it's the cuts, the underfunding and the under-staffing of these services that means they don't have the capacity we need in times of crisis - that's within our NHS, our social care and our supermarkets," she added.
Meanwhile Unison's Willie Duffy warned that the new rules were not an "appropriate or well evidenced" response and could lead to further spread of the virus.
However it was described as a "step forward in... a fast-moving situation" by the Scottish Retail Consortium.
"Whilst it is vexing that store staff are not explicitly in scope, it will hopefully help the grocery supply chain as its grapples with a conflux of pressures at the current time including elevated levels of self-isolation amongst staff in logistics, distribution, and production," a spokesman added.
He said the availability of products on shop shelves "remains good".
The move was also welcomed as a "cautious step in the right direction" by Scottish Conservative leader Douglas Ross.
"However, many questions must be clarified by the SNP if these changes are to have the right effect," he added. "They must be clear on who exactly will qualify for an exemption and for how long an exemption will last for."
Earlier Colin Smith, chief executive of the Scottish Wholesale Association, said his members were "critical" to keeping the shops supplied.
He told BBC Radio's Good Morning Scotland there was on average a 13% shortfall of required drivers in Scotland but staff shortages were not as bad as in England.
"The problems is the supply chain is heavily interlinked with England, so higher cases down there means less staff to pick and deliver to our depots so we can get it out our end users," he added.
He said fast moving goods such as soft drinks, pet food and alcohol are goods where "we can't replenish quick enough".
In the transport sector, ScotRail said a "very limited number of trains" have been cancelled due to staff shortages, but it has not amended its timetables.
On Thursday a Loganair flight was cancelled due to staff isolation. The airline is understood to be experiencing shortages of cabin crew and pilots.
Related Internet Links
The BBC is not responsible for the content of external sites.