Covid in Scotland: Digital vaccine certificates to replace paper versions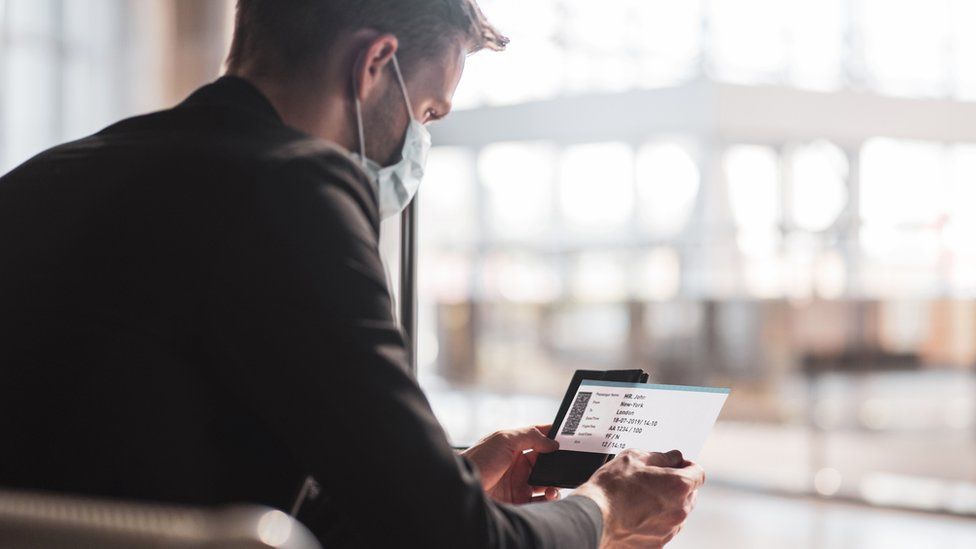 A digital scheme to replace paper Covid vaccination certificates is being developed by the Scottish government.
A £600,000 contract has been awarded to a Danish firm to develop a vaccine passport similar to ones already in use elsewhere in the UK and Europe.
The Covid vaccination status certificate show the dates and types of jabs given to an individual.
The certificates are used by people travelling overseas who require a record of vaccination status.
But there has been speculation a digital vaccine passport, which the government previously indicated would also include a person's proof of recovery or recent negative test, may be put to wider use.
That could include entry to sporting or music events.
First Minister Nicola Sturgeon said on 20 July that a digital solution would be coming into operation "over the coming weeks".
It followed concerns that the paper system was causing airport queues and more interactions with staff and passengers.
Now Labour MSP Paul O'Kane has written to Humza Yousaf calling for the health secretary to "outline how the Scottish government intends to rectify what is a technological lag here in Scotland" compared to other countries.
He said "Constituents have contacted me stating that the Scottish paper system has caused delays to their travel plans which are for work or family reasons.
"As we move back to a greater level or normality, the ability to access proof of vaccine will be increasingly important.
"The Scottish government must move quickly to create a similar system (to England) of digital proof of vaccine here in Scotland."
Danish IT firm Netcompany was appointed by NHS National Services Scotland to develop the new system at the end of June, with a contract worth up to £600,000.
Netcompany is also behind Denmark's Coronapass app and similar projects in Norway and England.
A Scottish government spokeswoman said: "We continue to work towards replacing the record of vaccination status with a digital certificate of Covid status.
"As the first minister made clear recently, more details on timescales and scope will be set out in the coming weeks.
"The current priority is to include vaccination data to be used for international travel in line with our current stance on certification as a whole."