Covid in Scotland: 'Right moment' to lift restrictions, says Sturgeon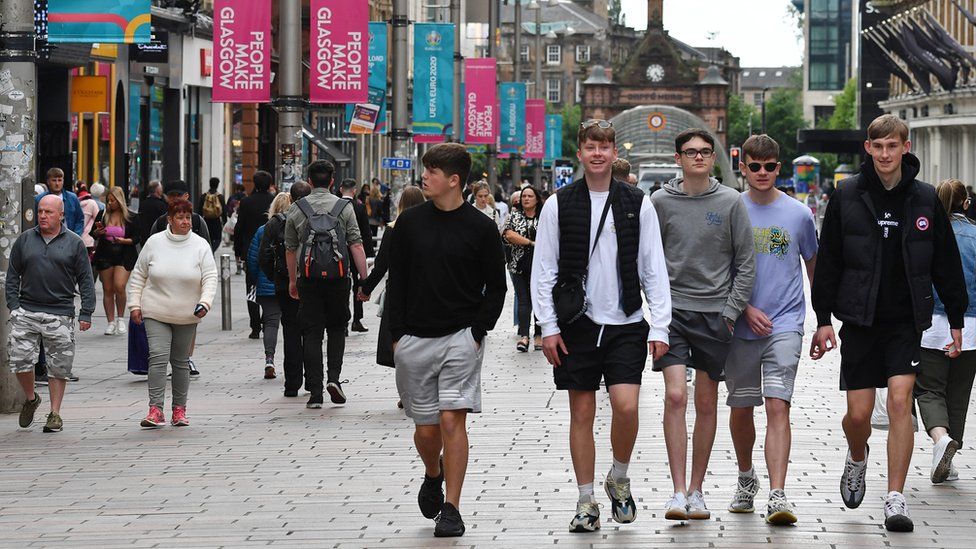 Covid restrictions in Scotland have been lifted at the "right moment", according to the first minister.
Nicola Sturgeon admitted to feeling "nervousness" at the move, but said the vaccine was now giving "significant protection".
Level zero ended at midnight with almost all of the remaining anti-Covid measures now removed.
The legal requirement for physical distancing ends in most places and hospitality can open at full capacity.
Large outdoor gatherings can go ahead and nightclubs are allowed to open.
Many clubs in Scotland opened their doors overnight for the first time since March 2020, with hundreds queuing up for the midnight reopening.
One clubber at the Buff Club in Glasgow told BBC Scotland: "We are so excited for tonight. This is Freedom Day - we're ready."
Scotland has been under varying levels of Covid restrictions for almost 18 months.
Ms Sturgeon said in an interview with ITV's Good Morning Britain: "I think there's always going to be nervousness when we lift restrictions after such a long period.
"I have to be honest that there's some butterflies in my stomach about it today, but I think it's the right moment to do this."
Deputy First Minister John Swinney said care was still required when dealing with the virus, but added it was the "right moment to act".
"We have very high levels of vaccination as a consequence of the supremely successful vaccination programme that has been put in place, so we have a significant amount of protection.
"And we have the benefit that we are still in the summer period and there is an opportunity for people to be spending more time out of doors."
However, Mr Swinney, the Scottish government's minister for Covid recovery, warned that face coverings were likely to a "significant" part of life in Scotland "at least through the winter".
"When I've travelled in Asia there is a common use of face coverings by individuals... and it becomes part of the cultural activity of particular countries," he said.
"I don't know if that will happen here, but I think some people will feel safer as a consequence of wearing face coverings."
Responding to Mr Swinney's comments, Scottish Conservative leader Douglas Ross said the threat of Covid rules lasting until 2022 would "dismay" people across Scotland.
"Nicola Sturgeon seems determined to cling on to control, even when the public health data does not support all of the government's decisions," he said.
"For instance, they have provided no evidence to explain why 12 year olds need to keep wearing face masks but 11 year olds do not.
"It's vital that the rules are straightforward, logical and communicated clearly. That no longer appears to be the case."
Face coverings still to be worn indoors in public places and on public transport
Pupils and teachers must wear masks indoors for up to six weeks after schools return
School staff must keep at least 1m distance from each other and from children and young people
2m distancing should still be observed in healthcare settings
Office workers should still work from home, where possible
Details still need to be given at hospitality venues for test and protect
The new rules also signal the return of outdoor events of more than 5,000 people and indoor events of more than 2,000 - but they must apply for permission from local authorities and the government to go ahead.
There are also new rules on self-isolation for close contacts of positive cases.
Double-vaccinated adults and all children can now avoid self-isolation if identified as a close contact so long as they are symptomless and provide a negative PCR test.
Whole classes in schools will no longer have to stay at home if an infection is discovered, although children and adults who are higher-risk close contacts will be told to isolate.
In an interview with BBC Breakfast, Nicola Sturgeon said the policy of wearing face coverings in schools will be reviewed after six weeks but she doesn't know how long the requirement will be kept in place in other settings.
The first minister said people should be cautious, but should also "feel positive about where we are right now".
Edinburgh University public health expert Prof Linda Bauld, also said caution was still needed as the Office of National Statistics infection survey showed there remained a "reasonable amount" of infections in the community.
"There are still a large number of people who are very anxious about going through this next phase. They may be clinically vulnerable and we need to think about them in our own behaviour," she told BBC Scotland.
"The virus has not gone away."
However, Prof Bauld added she was "really optimistic" that Scotland was "getting on top of the pandemic".