Will Scotland go back to traditional school exams?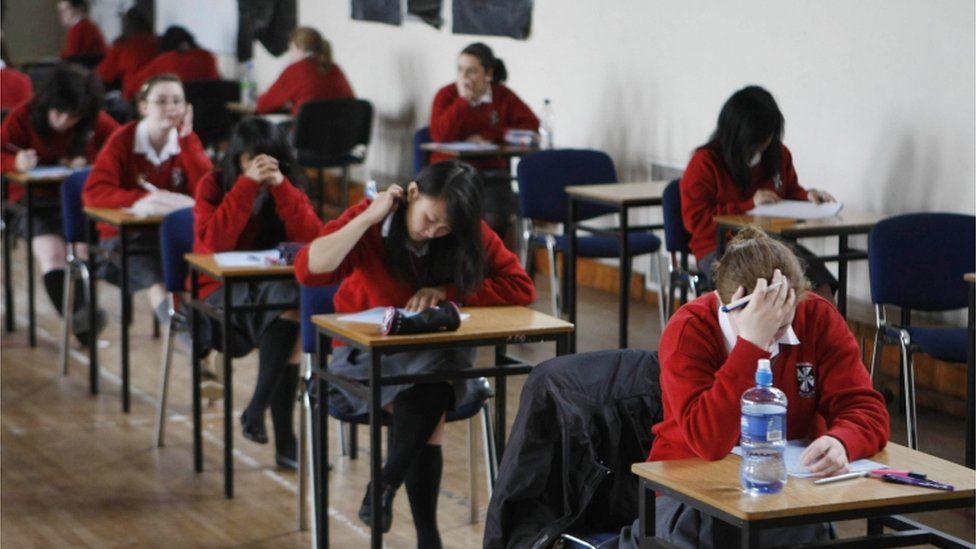 With Scottish school pupils set to receive their grades after another year of learning disrupted by the Covid-19 pandemic, there is debate over how - or if - exams should be conducted in future.
The Scottish government has already announced wide-ranging changes to the education system, with the Scottish Qualifications Authority (SQA) to be replaced with a new agency overseeing the curriculum.
However, with these reforms taking time to push through, an announcement in due in the coming weeks about what will happen in the next school term.
What are the arguments for and against returning to traditional exams, and what have ministers said about it?
What has happened in recent years?
In 2020, Scotland's school exams were cancelled for the first time ever as the Covid-19 pandemic took hold.
Grades were instead awarded using a system where teachers estimated the scores pupils should be given - but there was outcry over a moderation system which saw 125,000 of these estimated results being downgraded.
However there was also controversy over the 2021 diet, with claims that pupils ended up sitting assessments which were "exams by another name" because there was little time in the classroom to assess other work.
A decision on what pupils will work towards next spring is due before schools go back for the new term later in August.
What is the argument for keeping the new system?
Critics of the old exam system, who say an all-or-nothing exam paper might not accurately reflect what a pupil had learned across the school year, think the pandemic may help change things for the better.
The Scottish Greens - who are set to sign a cooperation agreement with the governing SNP - have called for a move away from the "antiquated high-stakes end of term exam model" towards "systems of ongoing assessment which judge a pupil's knowledge and abilities with far more accuracy".
Teaching groups have also suggested the current model should be retained at least for the coming year, to give more certainty to staff and pupils in uncertain times.
Seamus Searson of the Scottish Secondary Teachers Association said there were "real positives" to using teacher judgements, as long as it is not done in a "mad rush".
What is the argument for changing back?
Some argue that anonymously-marked exam papers are still the best way of guaranteeing consistent standards in schools, and avoid any unintentional bias from teachers.
The Commission on School Reform, set up by the think tank Reform Scotland, said the exam system tests memory and focus and how to consolidate knowledge over short periods of time - all "important and useful skills for life and work".
Dr Keir Bloomer, who led the study, said: "Anonymous marking is effectively insurance against the sort of rapid grade inflation that ultimately only ends when every pupil returns straight As, which would do no favours to either individual pupils or the country as a whole.
"If Scotland were to scrap exams altogether, as some wish, it would put us out of step with the rest of the world, which increasingly relies on a hybrid model of coursework and exams. That should be our future, too."
The Scottish Conservatives have also called for exams to be reinstated, calling them "the best and fairest way we have to measure educational attainment".
What has the Scottish government said?
In June, Education Secretary Shirley-Anne Somerville announced that the SQA would be scrapped as part of a "substantial overhaul" of education, which will see a new agency put in charge of qualifications.
This was prompted by a report by the OECD, which said there was too much focus on exams in the later years of schooling.
The group is set to publish a further report later this month specifically on the topic of exams, and Prof Ken Muir - a former chief of the General Teaching Council for Scotland - is to head a group which will engage with staff, parents and pupils about what the future should hold.
Ms Somerville said this work would begin in August, and take about six months to complete.
What questions do you have about this year's results?
In some cases your question will be published, displaying your name, age and location as you provide it, unless you state otherwise. Your contact details will never be published. Please ensure you have read our terms & conditions and privacy policy.
Use this form to ask your question:
If you are reading this page and can't see the form you will need to visit the mobile version of the BBC website to submit your question or send them via email to YourQuestions@bbc.co.uk. Please include your name, age and location with any question you send in.