£50m funding announced for new teacher recruitment in Scotland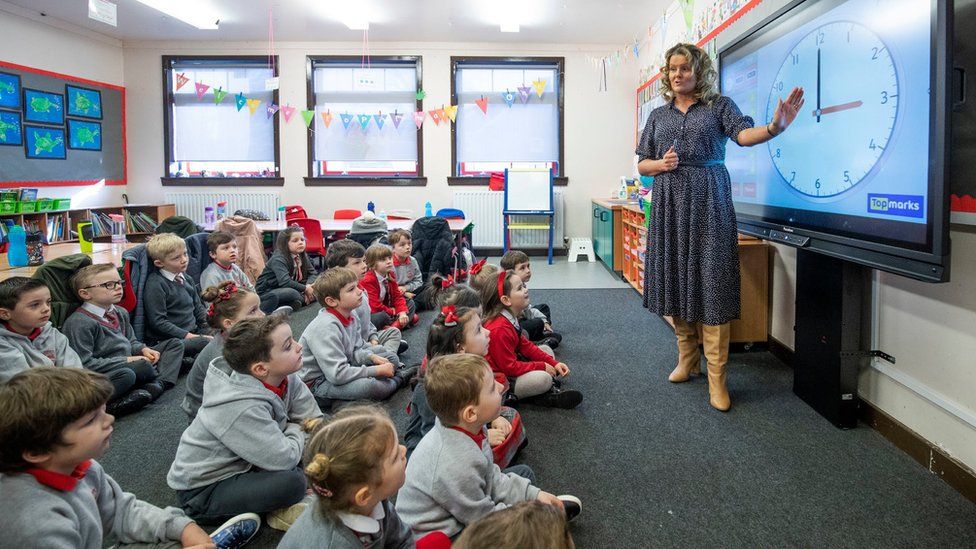 Funding worth £50m to recruit up to 1,000 new teachers and 500 teaching assistants has been announced by the Scottish government.
It will be available to councils in the coming academic year to help schools return full time to face-to-face teaching after Covid.
Ministers also pledged £65m annually from 2022 to allow councils to employ these staff on permanent contracts.
Scottish Labour said the move was "reversing years of SNP cuts".
Scottish teacher numbers rose by 1,153 to 53,400 in 2020. This total figure includes 25,651 primary teachers, 24,077 secondary teachers and 1,934 in dedicated special needs schools.
A further 1,009 staff were centrally employed and 729 were employed in early learning centres.
Education Secretary Shirley-Anne Somerville said: "Our vision for Covid recovery and our priorities for Scottish education remain unchanged.
"Recruiting more permanent staff will be one of the cornerstones of recovery, alongside the health and wellbeing of pupils, and staff-intensified support for reducing inequity and enabling the highest quality of learning and teaching."
The Scottish government had pledged to recruit an extra 1,400 staff to support the recovery of education during the pandemic and to allow for smaller class sizes.
Councillor Gail Macgregor, resources spokeswoman for local government body Cosla, welcomed the funding.
"Having the ability to recruit teachers and support staff with certainty is one part of how we can ensure councils can deliver the most effective experience for all," she said.
"We do however look forward to continuing to work with the government to address broader recruitment and retention needs."
Scottish Labour education spokesman Michael Marra said the announcement was a step towards "reversing years of SNP cuts".
He added: "This government must set about undoing their own damage but it comes at a time of unprecedented loss in education.
"The SNP remain in denial about the scale of the challenges schools face if they think this is a silver bullet."
Scottish Conservative education spokesman Oliver Mundell, said: "The SNP are patting themselves on the back with this announcement after years of overseeing a reduction in teachers in our classrooms.
"Even prior to the pandemic, the SNP had completely failed to address falling teacher numbers. That is a trend that must be reversed immediately."