Scottish results day: Record high for A grades as pass rate falls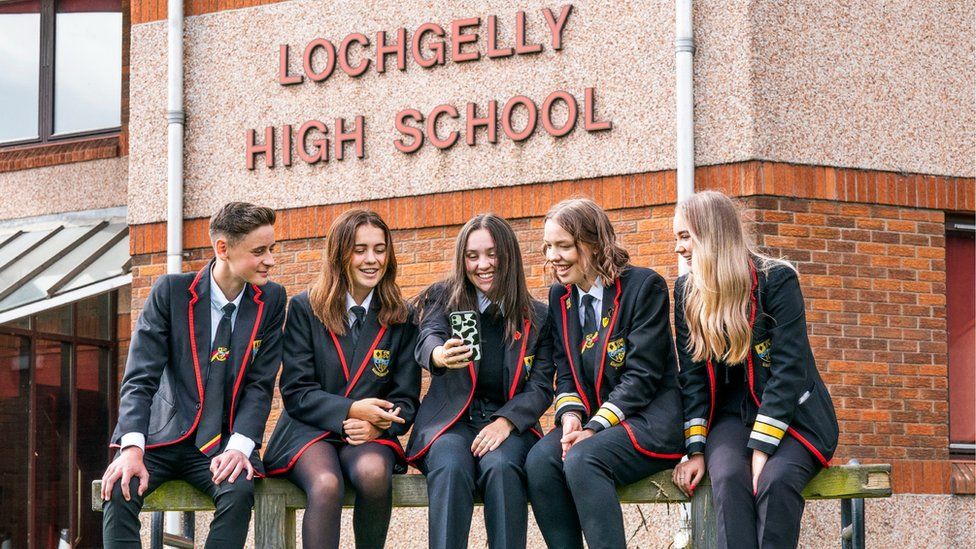 The percentage of pupils achieving A grades hit a record high this year as the pass rate for Scottish school qualifications dropped slightly.
Formal exams were cancelled for the second year running due to Covid-19, with grades based on teacher judgement.
The percentage of pupils achieving A to C grades in their Highers fell from 89.3% in 2020 to 87.3% in 2021.
But that total is still significantly above the 75% pass rate from 2019, and a record high number of awards overall.
Education Secretary Shirley-Anne Somerville said pupils had delivered "a strong set of results, achieved under extraordinary circumstances".
A total of 90.2% of Advanced Higher candidates achieved a pass, down from 93.1% in 2020, while National 5 scores dropped from 89% to 85.8%.
However, the percentage of students who got an A grade in Higher and Advanced Higher courses leapt by around 20 percentage points from pre-pandemic levels.
A total of 47.6% of Higher candidates achieved an A grade, compared to 40% in 2020 and 28.3% in 2019, when traditional exams were used.
In Advanced Higher courses, 51% of pupils got an A, up from 46.3% in 2020 and 31.8% in 2019. In National 5s, the figure rose from 42.3% in 2020 to 46.7% this year, up from 35.1% in 2019.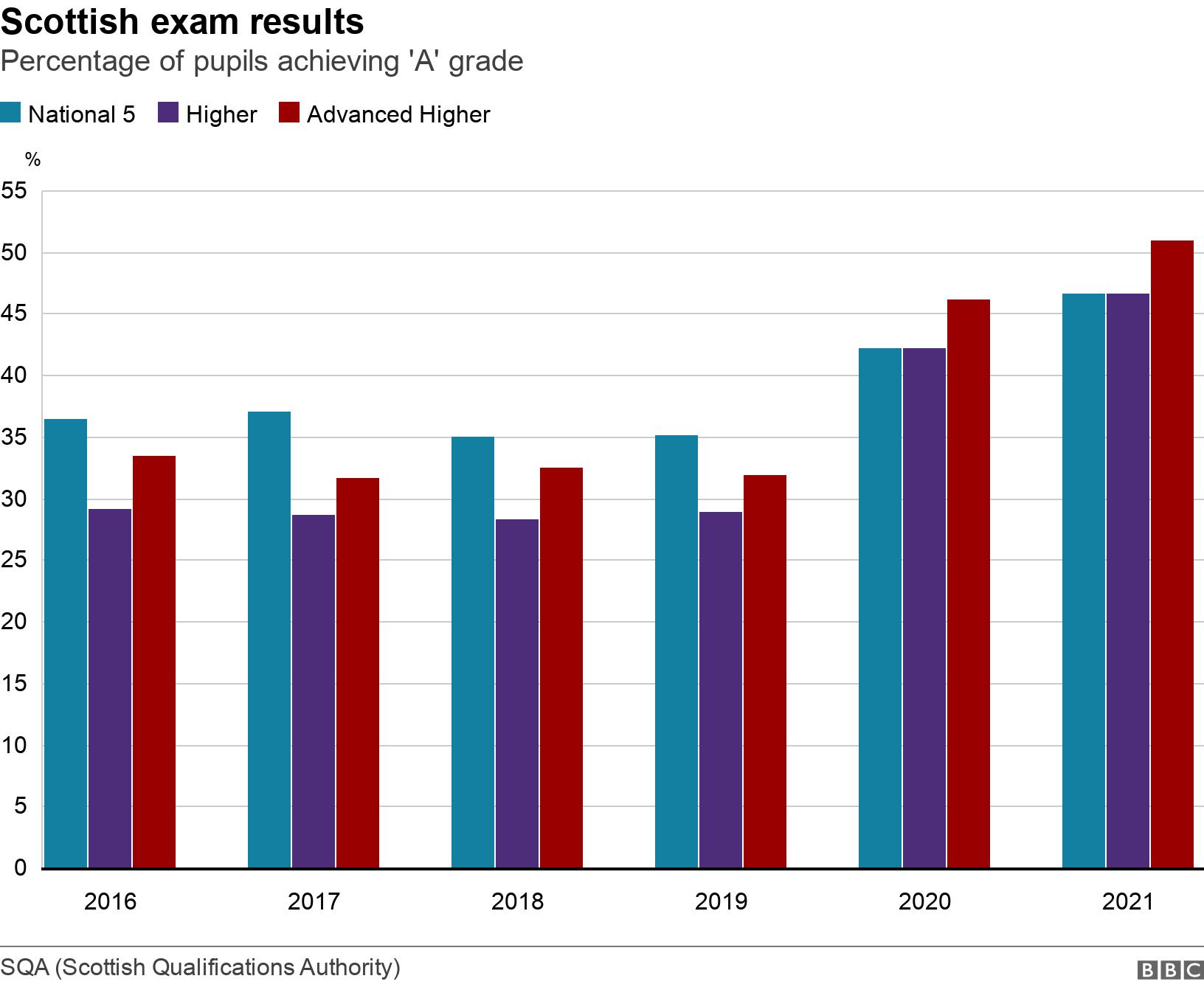 Meanwhile, the attainment gap between pupils from more deprived and more affluent backgrounds widened compared to 2020 - but was still narrower than it was pre-pandemic.
For National 5 qualifications, 90.2% of pupils from the least deprived backgrounds achieved a passing grade, compared to 81.3% from the most deprived backgrounds - a gap of nine percentage points.
This was an increase from the gap of 7.9 percentage points in 2020 - but still significantly down from the 17.1 percentage point gap in 2019.
There was a similar trend for Higher qualifications - where the gap increased from 6.5 percentage points to 7.9, compared to 16.9 pre-pandemic - and Advanced Highers, where the gap went from 3.0 percentage points to 5.5.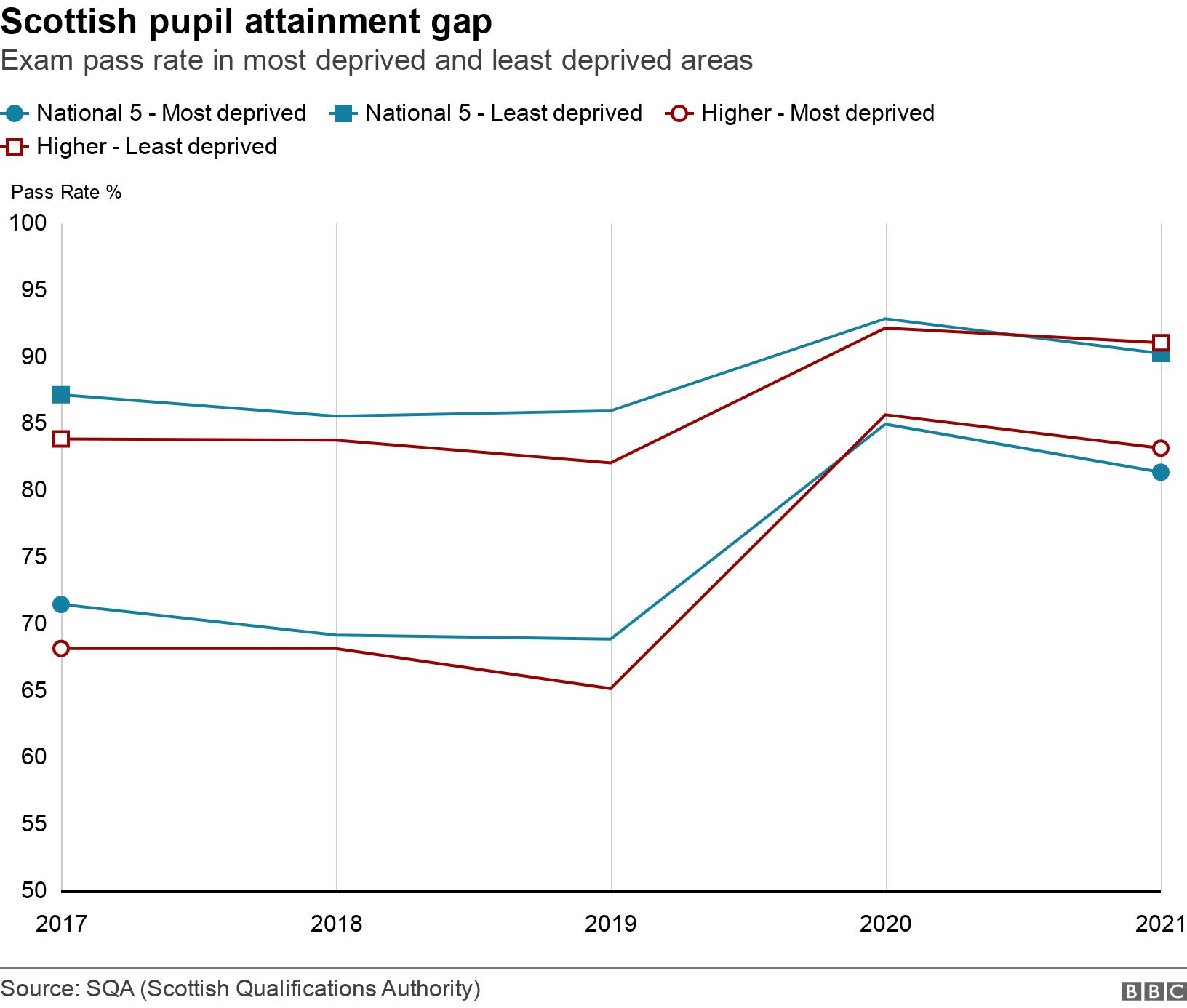 Senior pupils sat a series of assessments in May following disruption caused by the coronavirus pandemic.
Teachers then decided their grades and informed students before the end of term, and these grades were made official on Tuesday.
Katie Wilson, a 5th year pupil at Lochgelly High School in Fife, said this meant that results day had been less stressful than last year.
She had to isolate during the academic year, and said: "Our teachers were really supportive, they understood what we were going through, that we may have needed extra support when we came back - so it worked well I think."
The results reflect the highest number of Higher passes since at least 1999, and a record high percentage of entries at National 5, Higher and Advanced Higher courses resulting in an A grade.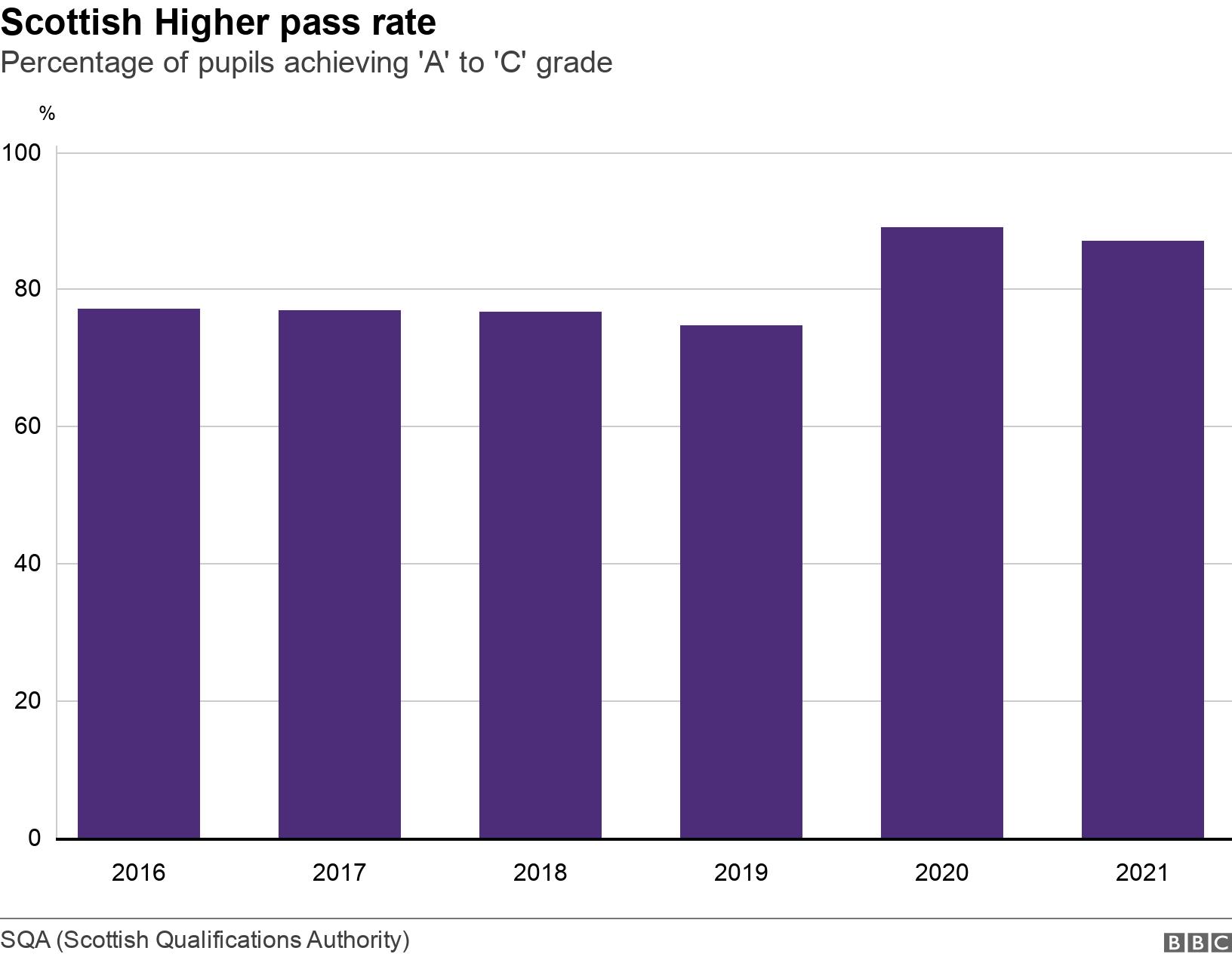 Ms Somerville said "significant challenges" had been thrown at young people in "one of the toughest academic years we've ever known".
She added: "Learners can be confident that their awards are fair, consistent and credible. Indeed, industry representatives have made it clear how much they value this year's qualifications.
"As in any year, the results highlight some areas for us to focus attention on. Closing the poverty-related attainment gap and ensuring every young person has the chance to fulfil their potential remains central to our work."
Ministers also said a record high number of Scottish-domiciled students had been offered a place at Scottish universities as of results day, rising 10% to 31,070.
There were more than 200,000 entries for Higher and Advanced Higher courses this year, and almost 300,000 for National 5 courses.
Ministers said final grades would be based on "teacher judgement supported by assessment", but the process was criticised by some parents and pupils - who described the assessments as "exams by another name".
The Scottish government had faced anger from pupils, parents and teachers over the previous results system, introduced after lockdown in 2020.
Grades were initially drawn up using teacher estimates for each pupil which were then moderated using results from previous years.
However, this sparked an outcry after 125,000 results were downgraded, with claims the moderation system unfairly penalised children at schools which had historically not performed as well.
In a 'normal' exam year, if too many people are doing too well then boundaries can be changed to make it harder to get a certain grade.
With assessments marked by schools this year and no central system, more young people than normal are celebrating hitting the top spot.
But does it mean an A this year is less valuable?
The SQA, the government, universities and employers are all keen to stress that's not the case.
Which begs another question. Would these A grade students - who deserve what they have got - have lost out under our usual exam system?
We still don't know how grades will be decided next year. This conversation could have a bearing on that.
The Scottish Conservatives said the exams system was a "disgrace", and that pupils had been "judged more harshly" than the previous year's cohort.
Education spokesman Oliver Mundell said: "Compared to last year, grades are down across the board. The attainment gap is up.
"That should set alarm bells ringing that this year's system is just as flawed and unfair as the shambles pupils suffered last year."
Scottish Labour's education spokesman Michael Marra said pupils and teachers had "performed nothing short of miracles this year" - but that there had been a "total lack of leadership".
He added: "This system has widened the educational attainment gap in Scotland, meaning that poorest pupils have been impacted the worst by the SQA and Scottish government mismanagement.
"The result is that there are many young people, particularly in our poorest communities, who have not achieved the grades they had hoped for, or deserved."
The Scottish Greens said the decision to cancel exams in 2021 was taken "far too late", and there had been a "near-total failure to plan for the effects of Covid disruption".
And the Scottish Lib Dems said the results "make a mockery of SNP promises to close the attainment gap" after pupils were "forced into exams in all but name".
Scottish business leaders have assured school leavers that their qualifications will be valued as much as in any other year.
More than 100 employers and business groups, including the Scottish Retail Consortium, Scottish Enterprise and the Scottish Tourism Alliance, have backed a new Young Person's Guarantee.
It aims to provide everyone aged between 16 and 24 with the opportunity of a job, apprenticeship, further or higher education, training programme or volunteering.