Scotland's beaver population doubles to 1,000 in three years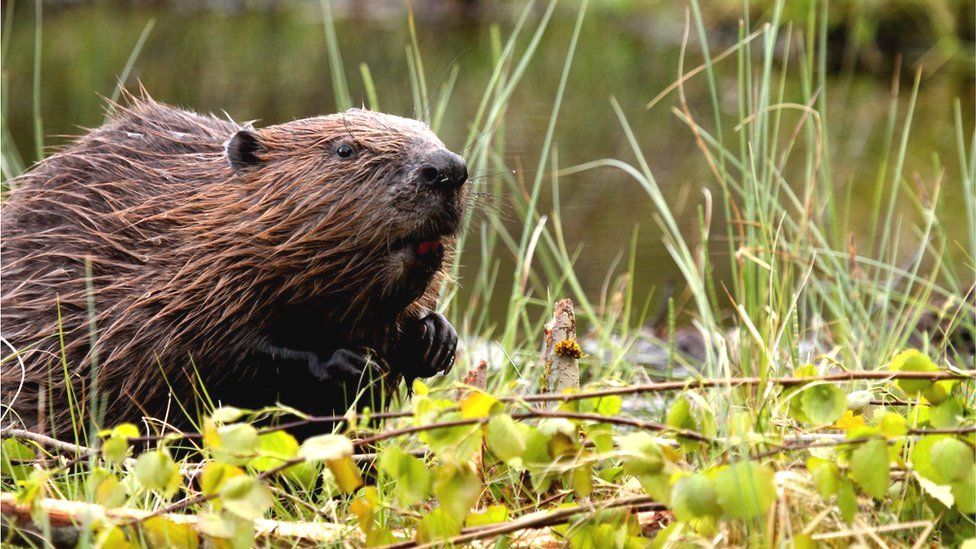 The number of beavers in Scotland has more than doubled in the last three years, new figures reveal.
Natural environment agency NatureScot says there are now about 1,000 of the animals.
Legislation was introduced in 2019 to make beavers a protected species, meaning it is illegal to kill or disturb them.
The beavers were spotted in 251 territories including Tayside, Stirling, Forfar and Crianlarich.
NatureScot says that they are likely to expand into Loch Lomond in the future.
The animals were reintroduced in Scotland in 2009 and are valued for their impact on ecosystems and abilities as "natural engineers".
However, those which disturb or destroy farmland can be removed under licence.
NatureScot said that in 2020 a total of 31 beavers were trapped and moved to reintroduction projects in England. A further 115 were killed.
The agency's director of sustainable growth, Robbie Kernahan, said: "Wildlife is declining in Scotland so this extensive survey is great news for nature.
"Beavers play a vital role in creating and restoring wetlands where other species can thrive, reducing downstream flooding and improving water quality."
A previous survey in 2017 identified 114 active territories with an estimated 433 beavers.
This increased to an estimated population of about 954 in the survey for the 2020 Beaver Management Report held last winter.
It gathered information on the locations of beaver territories, as well as assessing the health and spread of the population.
Researchers searched on foot and by canoe across, finding 13,204 confirmed signs of beavers such as burrows, dams, lodges and crop feeding.
Dr Roisin Campbell-Palmer, the report's lead author, said beavers provided "important biodiversity benefits" although some impacts were challenging alongside land-use practices.
She added: "This survey will hopefully provide valuable information to land managers and policy makers seeking to maximise the benefits and minimise the conflicts associated with the return of beavers to our rivers."
NFU Scotland President Martin Kennedy said a management framework to help beaver populations, while limiting damage to agricultural land, had been "developed successfully".
He added: "Farmers remain committed to playing their part in managing the species.
"However, it is vitally important that where mitigation measures are not working, and significant agricultural damage continues to occur, that licenced lethal control remains as a last resort."
Scottish Greens environment spokesman, Mark Ruskell MSP, said the population growth did not "excuse the killing or exporting" more than a tenth of the population last year.
He added: "Much more can be done to manage and resolve cases where conflict arises, especially through relocating animals to areas where they can thrive, creating eco-tourism opportunities and helping restore wetlands."
Related Internet Links
The BBC is not responsible for the content of external sites.