Covid in Scotland: Exams planned to go ahead as normal next year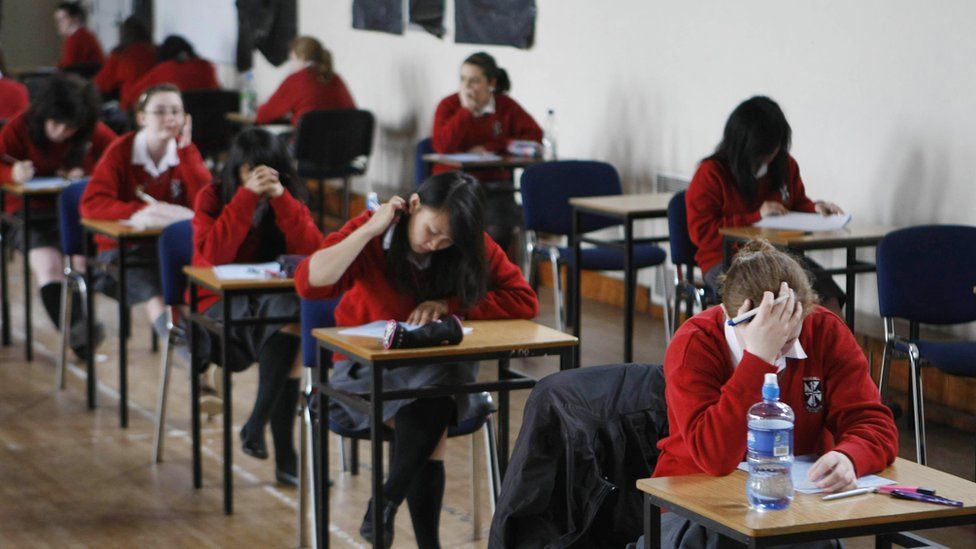 Exams will go ahead as normal next year if it is safe for them to do so, the Scottish government has confirmed.
It said National 5, Higher and Advanced Higher exams would be held in spring 2022 providing public health advice allows them to take place.
It was previously confirmed that course content would be reduced to take account of the disruption due to Covid.
Formal exams were cancelled for the past two years because of the pandemic.
Due to continued uncertainty about Covid, two contingency plans will remain in place:
If there is further significant disruption to learning as a result of coronavirus, but it remains safe for exams to go ahead, there will be further modifications to courses and assessment.
If public health conditions do not allow for an exam diet to take place, awards will be made on teachers' judgements based on normal in-year assessment.
Scotland's education secretary, Shirley-Anne Somerville, said fairness for learners would be at the heart of the plans.
She said: "Contingencies offer stability for teachers and learners in the coming academic session and will allow their focus to be on normal practices in teaching, learning and assessment."
Ms Somerville added that detailed guidance would be issued by the Scottish Qualifications Authority "at the earliest opportunity".
But the Scottish Conservatives questioned why the government was only giving a "belated update" after schools had returned from the summer holiday, and said it had still failed to give an "outright guarantee" that exams will definitely go ahead.
The party's education spokesman, Oliver Mundell, said: "That will only serve to create more uncertainty for pupils, teachers and parents who have gone above and beyond during the pandemic.
"The SNP have presided over a shambolic and chaotic exam system over the last couple of years. It has shamefully hit our poorest pupils the hardest."
There's a big debate about to kick off on a national scale around whether we should, in fact, have exams at all.
The Scottish Qualifications Authority is being scrapped and a government commission will look into how we test young people in the future.
That's a conversation to be had with the luxury of time and with a little distance from the past two years which have been extremely disruptive for pupils, parents and teachers.
What they want to know right now is not the answers to big theoretical questions but the answers to the basics: what do I need to learn and what do I need to teach to make this year a much smoother ride for everyone.
A plan for standard exams to take place means they now know what to aim for. Having not one, but two back-up plans shows the government is still nervous about what the next few months could bring.
One of the main reasons cited for the cancellation of formal exams earlier this year was the patchy nature of the disruption caused by pupils having to isolate.
It was thought unfair to have pupils who had been in class facing the same exam as those who had been forced to self-isolate at home multiple times.
Senior pupils sitting National 5s, Highers and Advanced Highers complained that assessments which replaced exams were just "exams by another name", after some pupils had to do the tests under similar conditions - but with much less preparation.
Grades were then awarded on "teacher judgement", which had to be backed up by evidence gathered in tests.
Since then, the government has announced it is replacing the SQA, and has announced a commission to look into the way pupils are assessed in future.
The Scottish government also said temporary Covid recovery funding which has been used to fund an extra 1,400 teachers and 250 support staff would be made permanent. It said Scotland's councils would receive an extra £80m annually from next April.
It added that this was in addition to the £65.5m permanent additional funding already announced for local authorities to recruit a further additional 1,000 teachers and 500 support staff.
The exam diet which had been due to take place in 2020 was scrapped entirely due to the pandemic. Instead, teachers were asked to estimate pupils' grades.
The U-turn came after many pupils complained they had been given lower grades than they had achieved in prelim exams at the start of the year, while the moderation system was criticised over claims it unfairly penalised pupils at schools which had historically not performed as well.
What has the reaction been?
Teaching union the EIS said it would have preferred to see exams by-passed for S4 students in the interests of "supporting education recovery and wellbeing".
Its general secretary, Larry Flanagan, said: "It remains to be seen whether the reductions in course content for this year as recognition that young people have been adversely affected by the pandemic, through no fault of their own, will suffice.
"It is essential that appropriate and robust contingencies are in place should it be necessary to cancel the exam diet on public health grounds.
"We saw earlier this year the damage caused by decisions being made too late without adequate contingences in place and the huge workload and stress that was placed on students and staff as a result."
Fiona Robertson, SQA chief executive and Scotland's chief examining officer, said "clear and timely information" about next year's assessments was important, adding that the SQA would work to "deliver credible qualifications".