Kathleen Jamie announced as Scotland's new Makar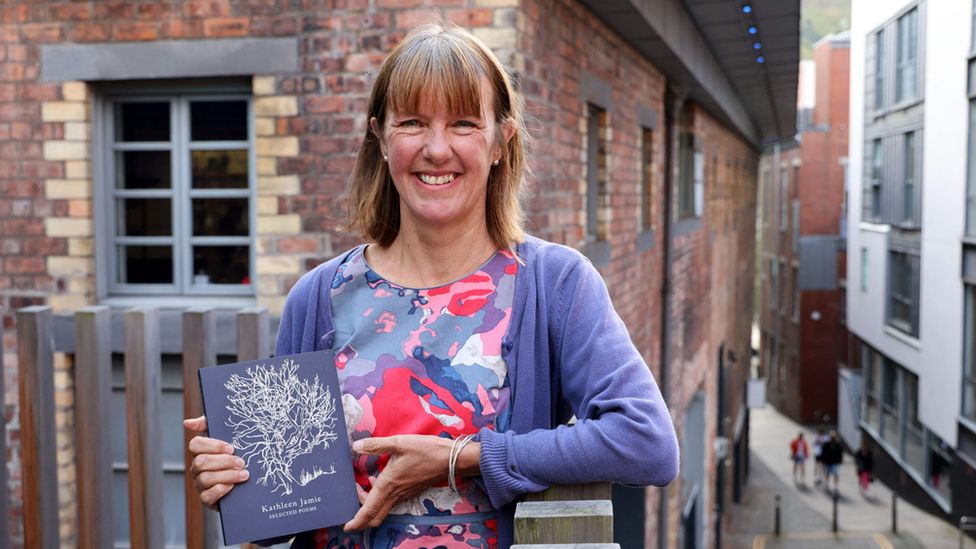 Poet and essayist Kathleen Jamie has been appointed as Scotland's next Makar.
The 59-year-old is the fourth person to take on the role of national poet, following on from Jackie Kay.
The Scots Makar position was established in 2004 by the Scottish Parliament with Edwin Morgan the first poet to receive the honour.
Ms Jamie was brought up in Midlothian and began writing poetry as a teenager, publishing her first booklet aged 20.
She was appointed for a three-year term rather than five years like the last two appointments.
The expert panel who selected the poet said they had reduced the term because of the time demands of the role and to help encourage "greater diversity, variety and interest" in the post in the future.
Nicola Sturgeon formally welcomed Ms Jamie to the role at the Scottish Poetry Library in Edinburgh.
The first minister said she was "delighted" to confirm the writer as Scotland's national poet.
"Poetry is integral to Scotland's culture and history. The Makar has a central role in celebrating that legacy, and preserving its future by encouraging the next generation of young writers to leave their mark," she said.
"Kathleen is a highly accomplished poet who is known for her works in English and Scots, and the meaningful connections her writing draws between our lives and the landscape around us.
"I have no doubt she will continue to build on the exceptional work of her predecessors to promote Scottish poetry both here and abroad."
Ms Jamie has published three books of essays around nature, travel and culture called Findings, Sightlines and Surfacing.
Her poems have appeared on the Underground systems of London, New York and Shanghai, and another was carved on a huge wooden beam on the national monument at Bannockburn.
Ms Jamie said: "I am honoured and delighted to be appointed as Scotland's new Makar.
"The post confirms a weel-kent truth: that poetry abides at the heart of Scottish culture, in all our languages, old and new. It's mysterious, undefinable and bold. It runs deep and sparkles at once."
"Liz Lochhead, Jackie Kay and the late Edwin Morgan have held this post before me, a trio of major poets. If I can achieve half of their outreach, humour and wisdom, not to mention their wonderful verse, I'll be doing well."
Related Internet Links
The BBC is not responsible for the content of external sites.