Covid in Scotland: Is the drive to get young people jabbed working?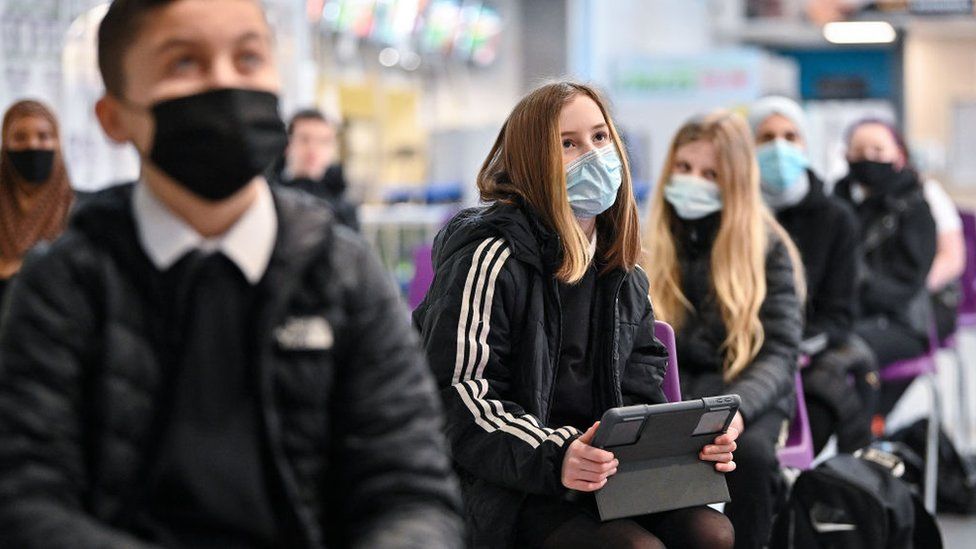 Nearly half of Scotland's coronavirus cases are in people under 25, with more than a third being detected in the under 19s. The campaign to convince teenagers to get vaccinated is ongoing, but just how successful is it?
On the face of it, vaccine uptake across all age groups follows a similar pattern - there is an initial strong uptick, before numbers plateau.
However, it is the stage at which this flattening happens that is of particular interest, and of possible concern.
Essentially, the younger the age group, the earlier this plateau effect begins.
For example, the latest data from Public Health Scotland shows that the vaccination rate for 55 to 59-year-olds started to flatten out only once approximately 95% of that cohort had received their first dose.
Similarly, 90% of those aged between 50 and 54 had received their first dose before the uptake rate started to level off.
A survey conducted by the Scottish government in May 2021 suggested that 90% of 18 to 29-year-olds in Scotland would get the Covid-19 vaccine when offered it, or had had it already.
However, the survey's findings appears to not match the reality on the ground.
The uptake rate in the 18 to 29 age group started to plateau at the 70% mark, and currently stands at 73%.
It took 10 days for the rate to increase from 72% to 73%, and also 10 days to increase from 73% to the current rate of 73.8%.
These increments contrast to the daily increases of more than 1% when the vaccine was first offered to this demographic.
A second pattern emerges if we delve deeper still into the data.
It is not only how early the plateauing of first doses occurs - it is the speed at which we get to that point.
The staggered approach in Scotland's vaccination programme meant that most 55 to 59-year-olds were only eligible to get their first dose from 15 March.
Over each of the next 21 days approximately 1% to 4.5% of people in this age group were getting their first Covid jab.
Three weeks later and the cumulative coverage rate of this cohort had jumped from 40% to 90%.
Only then did the uptake trajectory start to flatten out.
Those aged 16 and 17 were able to register for their first dose from 4 August, and start accessing drop-in clinics a few days later. Again we see an initial spike as we did with the 55 to 59-year-old cohort.
But while that spike saw a steeper increase in jabs administered - 20% in the first nine days - early data suggests the uptake rate has largely decreased now many teenagers have returned to school.
Earlier this week Professor Jason Leitch told BBC Radio Scotland's Drivetime that he hoped that 16 and 17-year-olds would all be vaccinated within the coming weeks.
Scotland's national clinical director said: "We have supply, we have drop in clinics available to them, we just need to make it as convenient and as open for them as we possibly can."
This "convenience" factor - and not apathy - could perhaps be the reason for this initial flattening of the curve.
Uptake did briefly increase again on the weekend of Saturday 21 and Sunday 22 August.
One theory for this could be that many 16 and 17-year-olds were not able to get jabbed in the one week window before schools re-opened, and instead opted to get it the following weekend.
Limited vaccination window
Professor Linda Bauld - an Edinburgh University behavioural scientist who recently took up a Scottish government adviser role - said this could be attributable to the "makeup" of those sitting on the Joint Committee on Vaccination and Immunisation (JCVI).
Referring to the limited window 16 to 17-year-olds were given to get their first jab before returning to school, she said: "I think clearly we were slightly disadvantaged by that timing, probably through nobody's fault.
"If you look at the makeup of the JCVI, there's actually nobody from Scotland who is an independent expert on that group as in terms of academics or clinicians.
"Probably the return of the school year in Scotland was not at the front of their mind as a committee.
"They were probably thinking about many things, and I'm sure if you have had more representation from Scotland in those discussions, it might have been a more prominent feature".
During the initial vaccine spike it is worth noting that those 16 to 17-year-olds getting their first jab ranged from 1.5% to 3.2% - daily levels significantly under those aged between 55 and 59.
How can low vaccine uptake and school-based Covid surges be remedied?
Unlike Israel, Scottish schools are not currently offering vaccinations in school.
However, a Scottish government spokesman said it was "trialling extra approaches to reach this group such as going into colleges, using flyers and posters in schools to direct young people to after school nearby drop-ins, taking vaccines buses to school vicinities, and going into some schools."
He added: "All 16 to 17-year-olds that did not attend a drop in or self-register are being sent a letter this week with an appointment time."
Lower rates of take up were also evident in the three weeks when most 18 to 29-year-olds got their first dose.
People in this cohort were able to start registering for their vaccinations on 24 May, with many starting to get jabbed in early June.
Within a three-week period the cumulative coverage rate of this cohort jumped from 31% to 61% before starting to plateau.
Take-up rates during this window varied between 1% and 1.8% - much lower than those evident in the figures for 55 to 59-year-olds.
Prof Bauld said: "There's a feeling amongst this age group that 'I'll get around to it eventually'.
"People in this group have complex lives, lots of social connections, lots of responsibilities so we need to again think of the convenience factor."
She added that communication may be another reason for the decline in uptake in the younger age bands.
Prof Bauld said: "You need to tailor it to that group and sustain it.
"A mistake that we often make in public health is that we have a campaign, it's pushed really aggressively for a while, and then it's sort of in the background.
"So you need to keep up that communication."
A Scottish government spokesman said it was currently "strengthening communications targeting the 18-29 age group, such as the Roll Up Your Sleeves campaign, to ensure we vaccinate as many people in this cohort as possible".
But while the data suggests the take-up rates among the nation's youngest are not ideal, Scotland is doing comparatively well when compared to other European nations.
"So generally we have done amazingly well," says Prof Bauld. "But enthusiasm appears to have waned.
"There are more people, who are doubly vaccinated, who are dying now in Scotland.
"So the more virus we have circulating in younger age groups, the more that breakthrough infections may occur among older age groups."