Covid in Scotland: Unions call for all secondary pupils to get vaccine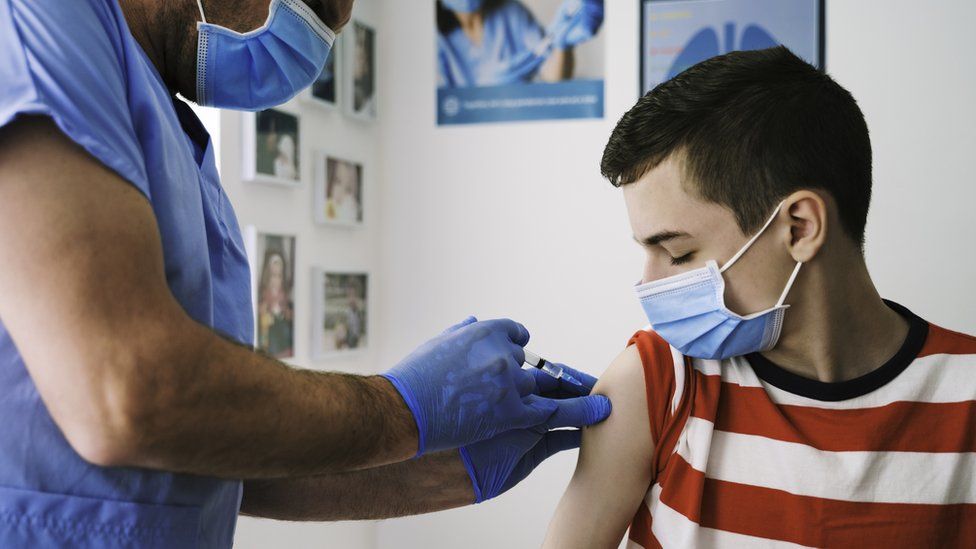 Teachers' unions are calling for all secondary pupils to be vaccinated amid rising Covid case numbers.
Concerns have also been raised about "confusion" over contact tracing arrangements in schools.
Unions say a spike in cases highlights the need for "continuing caution and effective mitigations" to stop the virus spreading in schools.
Nicola Sturgeon says she hopes that experts will soon recommend that all 12 to 15-year-olds are vaccinated.
Answering questions at a Covid briefing, the first minister said she would "ideally" have liked that to have happened before Scotland's schools returned from the summer holidays earlier this month.
"There are many countries across the world that are already vaccinating 12 to 17-year-olds, clearly there are expert groups there who think this is safe to do," said Ms Sturgeon.
And she added: "I really hope that the JCVI (Joint Committee on Vaccination and Immunisation) feel that the evidence allows them very, very soon to recommend vaccination for all 12 to 17-year-olds."
National clinical director Professor Jason Leitch said: "We are ready for when that advice comes, the vaccination programme is ready to go."
The JCVI has said one dose of the Covid vaccine should be offered to 16 and 17-year olds.
The vaccine has already been approved for over-12s with underlying conditions or those who live with others at high risk.
The general secretary of the Scottish Secondary Teachers Association, Seamus Searson, told BBC Radio's Good Morning Scotland programme he was in favour of such a move.
He also said schools should go further than government guidance over safety measures.
He said: "Some of the things that we were doing prior to the summer - having staggered starts and trying to isolate children so the opportunities for mingling would be reduced - those sorts of things would help.
"On 12 to 15-year-olds (being vaccinated), I think we need to be moving in that direction. To keep everybody safe, we need to make sure everybody is vaccinated."
Mr Searson said people should not get complacent and think they can "go back to normal".
"We've got a lot of work still to do. Trying to restrict the movement of children between year groups is a no-brainer, as far as I'm concerned," he said.
"We need to have a consistent message, regardless of what part of the country you are looking at, to make sure everybody is following the rules and everybody understands the rules."
The Educational Institute of Scotland (EIS) pointed to figures from Public Health Scotland which showed that test positivity rates among children aged between two and 17 had increased from 18.5% to 19.9% this week.
The rate ranges from 190.1 cases per 100,000 among two to four-year olds up to 1,198.5 cases per 100,000 in 16 and 17-year-olds. In the general population, the rate was 435.9 per 100,000.
EIS general secretary Larry Flanagan said the figures were a cause for concern and "underline the need to remain on guard to ensure schools remain Covid conscious and that mitigations are maintained".
He said the union also supported calls for all secondary pupils to be offered the vaccine.
And he claimed that changes to contact tracing arrangements in schools were creating confusion for parents, pupils and staff.
He said all pupils identified as close contacts should be required to get a clear PCR test before returning to class.
A third of all Highlands schools have been affected by Covid, with "a significant number of year groups self-isolating".
In total, more than 1,000 cases of Covid were recorded across Highland last week - the highest figure since the start of the pandemic.
The council's education chairman, John Finlayson, said the rise in case numbers among pupils had been expected following the start of the new school term.
But he warned that extending mitigations - including a return to home schooling - would have to be considered if the numbers kept rising so sharply.
Mr Finlayson told Good Morning Scotland: "It's never off the table and is actually ongoing.
"Remote learning and online learning is working very successfully across Scotland, and particularly so in Highland.
"We had the previous experience so we've got back-up plans in place."