Covid in Scotland: Decision due 'soon' on jabs for 12-15 year-olds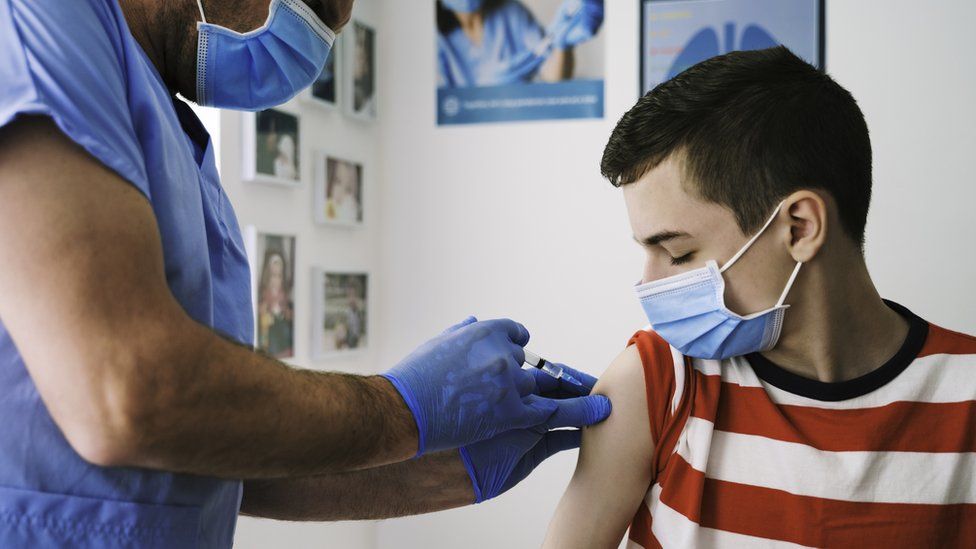 Scotland will announce a decision on jabs for 12 to 15 year olds "as soon as possible" after it was recommended by the UK's chief medical officers.
The UK government's vaccine committee said there was not enough benefit to warrant it on health grounds alone.
But the CMOs said vaccination would help reduce disruption to education.
Scotland's health secretary, Humza Yousaf, said their conclusion was that the additional likely benefits were sufficient to justify vaccination.
He added: "Health ministers are now considering this advice and we will make a decision as soon as possible."
If they agree, children will be offered the Pfizer jab.
Children with health conditions or living with clinically vulnerable people have already been told they can get the vaccine.
This accounts for around one in 10 of the three million UK children in this age group.
Mr Yousaf thanked Scotland's chief medical officer Dr Gregor Smith and his three UK counterparts for their "careful consideration" of the issue.
Dr Smith joined the UK government's chief medical adviser, Prof Chris Witty, at a Downing Street briefing to outline the process that would be taken to offer the jabs.
He said that parents and children needed to understand that although the benefit was "marginal", it was still better to have the jab.
He said: "Informed consent in this context is really important, particularly when there is a marginal benefit.
"We should not mistake that for no benefit at all, that's the first really important point in this."
Dr Smith, a GP himself, said that it was important to use "straightforward language" in order to set out "in very child-friendly terms" the advantages of vaccination.
"That is something that GPs across the country are used to doing on a regular basis", he said.
EIS general secretary, Larry Flanagan, told the BBC he welcomed the development as Scotland was in the midst of "record levels" of teacher and pupil absences.
He said: "The very high level of pupil infection at the moment is a cause for concern, because in secondary schools teachers will be in contact with over a hundred pupils in the course of a normal day.
"And if there are high infection levels amongst those pupils there is a greater risk to teachers and to other support staff, so reducing that risk through the vaccination of 12-15 year-olds is a very welcome step."
Scotland's children and young people's commissioner, Bruce Adamson, also welcomed the CMOs' guidance, but stressed that children must have a choice.
"It is important that children are supported to make informed decisions about their own health. Children of this age group have told me over the last few months that they are in favour of having the choice to be vaccinated," he said.
Nicola Sturgeon has previously said that Scotland would be ready to move as quickly as possible if the recommendation came.
Linda Bauld, professor of public health at Edinburgh University, and soon to become the Scottish government's chief social policy adviser, told BBC Radio Scotland's Drivetime programme that preparations had been started.
She said: "They will also be looking at to what extent the schools are involved. We know the supply is here. It will be more about the logistics.
"The other thing I would emphasise is all the comms to parents and young people will need to be clear, there need to be frequently asked questions prepared so that people can make an informed choice."
Prof Bauld said that she herself had witnessed a level of confusion from parents and said that messaging should reflect what people were genuinely concerned about.
She said: "What is the risk of myocarditis and pericarditis, what are the potential benefits of vaccinating and what's the risk of Covid-19 to young people?
"That needs to be spelled out and available in simple plain language and to the young people themselves - using voices young people trust like Young Scot."
She added that there was good evidence that the more people immunised in a population - including young people - the better the "wall of population immunity".
She said that the vaccines cannot prevent transmission but they do reduce the risk of transmission and that more young people being vaccinated would "help achieve that".
Dr Mairi Stark, Royal College of Paediatrics and Child Health Scotland officer, said the vaccine would have "marginal benefit" for children as very few end up in hospital with the virus or suffer severe complications.
But she told BBC Radio's Good Morning Scotland programme: "A lot of children are getting Covid so that disrupts school.
"A lot of children are having to spend time off school self-isolating and they are having to self-isolate on a recurrent basis at the moment. So keeping children in school is the big thing."
Use the form below to send us your questions and we could be in touch.
In some cases your question will be published, displaying your name, age and location as you provide it, unless you state otherwise. Your contact details will never be published. Please ensure you have read the terms and conditions.
If you are reading this page on the BBC News app, you will need to visit the mobile version of the BBC website to submit your question on this topic.