'There are so many calls and not enough ambulances'
Scotland's health service is under pressure like never before, with hospitals across the country operating at, or near, full capacity.
Staff shortages due to high rates of Covid infection are pushing many of those left on duty to their limits.
Call handlers are dealing with about 10,000 more 999 calls a month than last summer. The impact is being felt by patients as they wait for hours for medical help.
BBC Scotland's health correspondent Lisa Summers spent the night shift with one ambulance in crew in Lothian, to witness the level of demand they are facing.
Paramedics Moira Shaw and Blair Paul are en route to their first patient, an 83-year-old woman who is suspected to have had a stroke. They have already been diverted away from a call to a care home where an elderly lady has fallen as this call is more urgent.
Pensioner Jesse and her husband George were about to sit down to dinner when she began to feel unwell.
Moira and Blair have to get her to hospital as soon as they can where she can be seen by a specialist stroke team.
At the hospital, four ambulances are waiting in a queue to offload their patients - ambulances that could be going out to emergency calls.
Moira says: "The public perception is that there are plenty of ambulances, there's just not enough."
Blair adds: "People are waiting, seven, eight, nine hours for a response and to be honest that is unacceptable and I can understand people are angry, but generally when we turn up, people are just happy to see us."
The ambulance service is busier than it has ever been - calls have to be prioritised. This means other patients have to wait.
"It's relentless", Moira says. "Tuesday night for example at 2am, there were 60 calls waiting for an ambulance. The volume of calls is so high we are pretty much using every resource that we can, so managers are out, if they are a paramedic they are on the road now, we are pretty much pulling every resource we can."
On average, call handlers are dealing with about 10,000 more 999 calls a month than they were last summer.
They say they are getting to the most urgent calls in less than 10 minutes but have apologised to patients who have waited too long.
Call handler Sarah Williams says: "When you come in and you see 20 calls in the queue you think, 'how is the day going to go?'"
Sarah says she can understand why people are frustrated, but the handlers have to prioritise life-threatening calls.
"We are getting so much abuse off people because of the wait times, and we don't want to tell them that their gran is going to be lying on the floor for 10 hours, but right now that's the reality of it," she says.
"And it is horrible waiting. We've got people who have been waiting since yesterday to get an ambulance out to them and they are giving us abuse, swearing, threatening us down the phone. It's not going to make the ambulance come any quicker, no matter how much abuse they give us."
'Someone could be seriously unwell'
Back on the road, Moira and Blair are being sent back to the patient who fell in the care home. She has been waiting for an ambulance for almost five hours.
Only minutes away from the care home they are diverted again. This time a "red call" to a fire in Kirkliston.
Fire crews, special response teams, police and four ambulances attend - but in the end, the ambulance crews aren't needed.
"This is a daily occurrence for us now," Blair says. "We are diverted to more serious jobs and ultimately it means someone has to wait for a long, long time for an ambulance. It's frustrating for us because we know that that lady is probably in pain, and uncomfortable, however, this supersedes that unfortunately."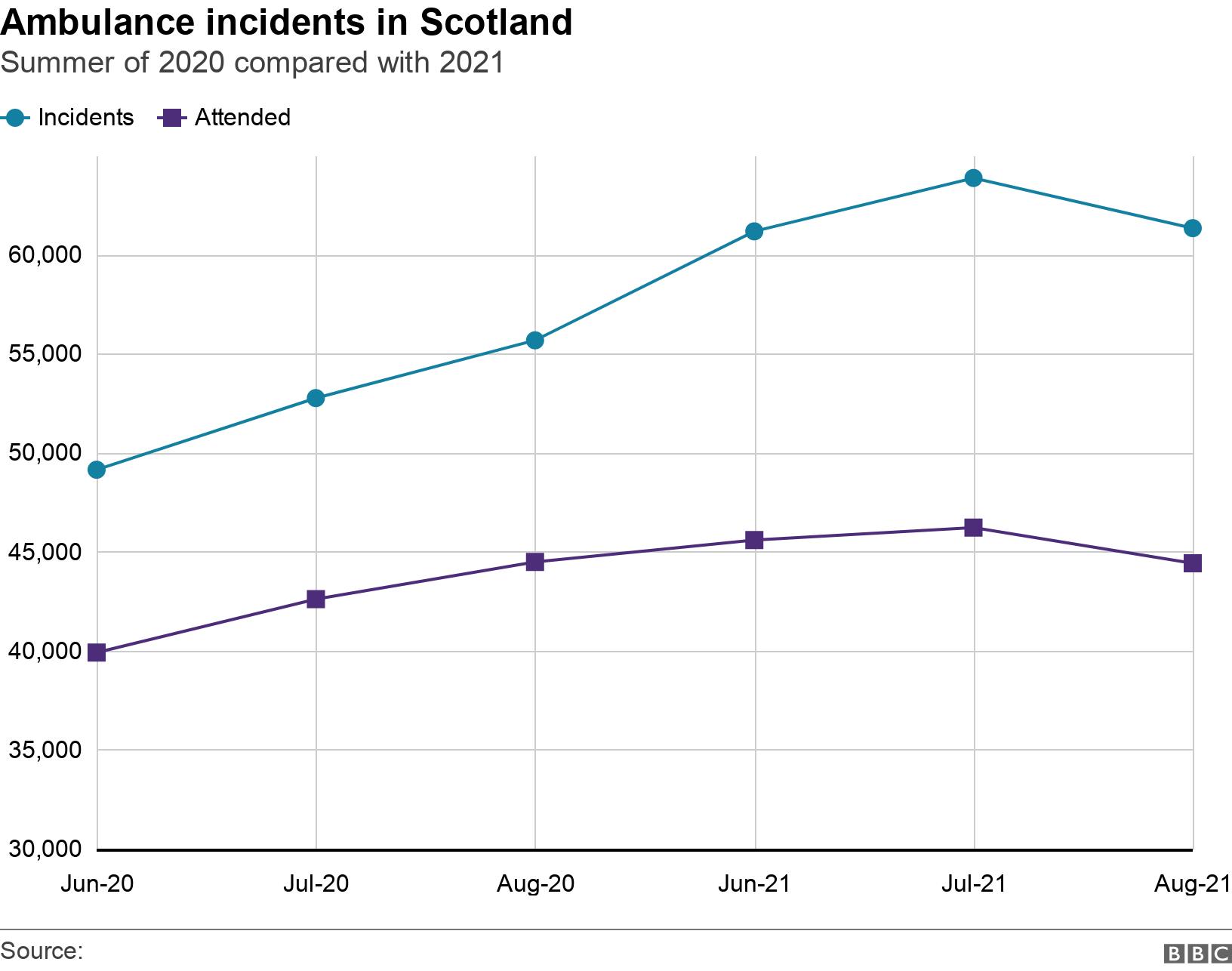 Moira adds: "They don't understand that there are so many calls and not enough ambulances, and we feel bad that they wait for hours and hours on end. It's worrying because sometimes things are missed and someone could be seriously unwell, it's not been picked up and they can be waiting hours for an ambulance."
Blair says that, ultimately, the resources need to be used in the best possible way.
"As an ambulance service we are always happy to come and see people, it's our job, we love going to see people, but I think people are quite quick to call an ambulance rather than look for other ways to support their health," he adds.
Pauline Howie said staff were working under "unprecedented pressure" in response to a "huge increase" in Covid and non-Covid cases.
She said there had never been a period of such sustained pressure on the health and care systems.
At First Minister's Questions last Thursday, Nicola Sturgeon said the average wait last week for immediately life-threatening incidents was nine minutes and 30 seconds, a figure she described as "not good enough".
Almost 300 additional ambulance service staff are being recruited through £20m in Scottish government funding allocated since last year.