HGV driving test changes 'risk to road safety'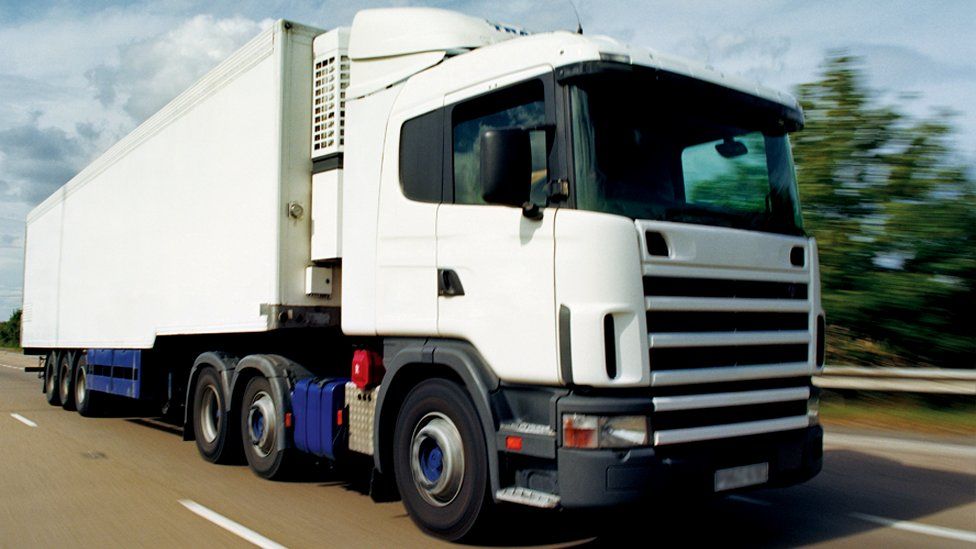 Changes to the HGV testing system designed to address a shortage of drivers are a risk to road safety, the Road Haulage Association has said.
The UK has an estimated shortfall of 90,000 lorry drivers, a problem that has worsened after Brexit and Covid.
On Friday, the UK government announced plans to encourage more new drivers on to the road by freeing up to 50,000 HGV test slots.
It insisted the streamlined process would not affect HGV driving standards.
The changes are part of a plan to address widespread supply chain issues caused by the driver shortage, which has hit a range of sectors including food, drink and medicines.
Lorry driver shortages have been blamed on EU workers leaving the UK following Brexit as well as during the pandemic and tax changes making it more expensive for drivers from elsewhere in Europe to work or be employed in the UK.
There have also been complaints about a backlog of driver tests.
UK Transport Secretary Grant Shapps told the House of Commons last week the government would now overhaul regulations to boost capacity, meaning:
Car drivers will no longer need to take a separate test to tow a trailer or caravan, allowing roughly 30,000 more HGV tests to be conducted every year
Tests will be made shorter by removing several elements and having them tested separately by a third party
Drivers will be able to get a licence to drive an articulated vehicle without first getting one for a smaller vehicle, making around 20,000 more HGV driving tests available every year.
Mr Shapps said the changes, which still need to be approved by parliament, would generate additional test capacity "very rapidly".
He added: "These changes will not change the standard of driving required to drive an HGV, with road safety continuing to be of paramount importance."
In a statement, he added that the UK government had already delivered 50% more tests than had been available before the pandemic, and that these changes would mean an extra 50,000 each year.
However, the Road Haulage Association (RHA) is concerned that changes like removing the reversing manoeuvre from the test - which makes it shorter - and assessing it separately is a step backwards when it comes to safety.
Brian Kenny from the RHA said: "According to HSE, there's about seven people knocked down and killed in yards each year with vehicles reversing.
"I think it is a step back. More than one person is one too many, as far as we're concerned.
"Going forward on the roads should be assessed and should be tested. It's equally important to test properly how an individual reverses and manoeuvres off the road."
Andrew Malcolm, chief executive of the Malcolm Group, was also sceptical, saying the new regulations would result in people who had sat a single test being allowed to drive the largest articulated lorries.
Mr Malcolm told the BBC: "In principle, I can understand what they've done, to try to unlock test dates.
"However, I am seriously concerned about the safety aspect. I think they've cut far too much out the process of the test - that's my biggest worry."
The bulk of the additional capacity will come from another change with implications beyond the world of HGVs - car drivers no longer needing to sit a test to tow a caravan or trailer.
The Road Haulage Association said it would still encourage car drivers to sign up for training on towing caravan or trailers.