Covid in Scotland: Government 'working urgently' to free up NHS beds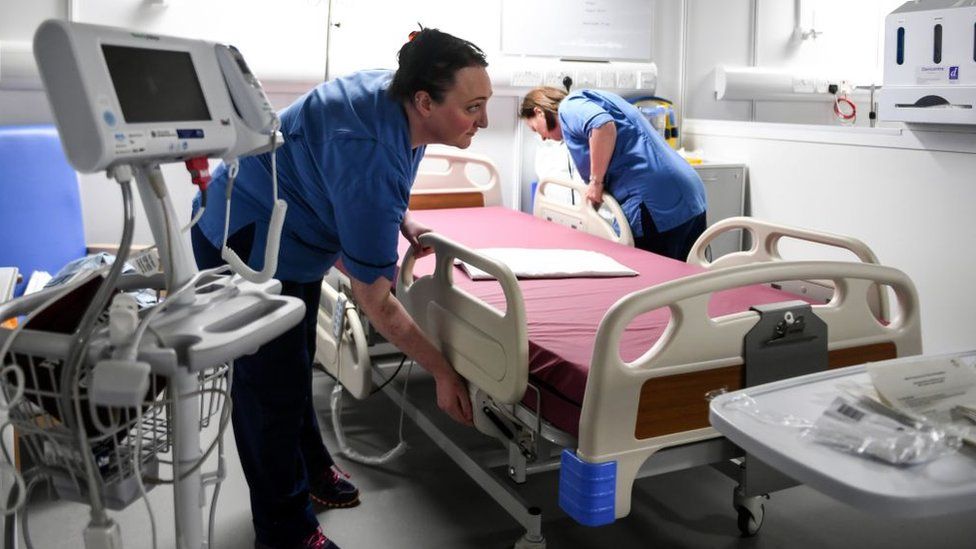 Health Secretary Humza Yousaf says he is "working urgently" to free up bed space in Scotland's NHS.
The Scottish government has enlisted the help of the Army, fire service, British Red Cross and taxi firms to ease pressure on the ambulance service.
Mr Yousaf told BBC Scotland that efforts are also under way to move more people into social care.
Nursing and social care groups say more help is needed - and that reintroducing some restrictions should be considered.
Donald Macaskill, the chief executive of Scottish Care, which represents care homes in Scotland, claimed his sector was in "dire straits" and needed an "emergency intervention".
He added: "With all the focus on the NHS the crisis in the care system has gone largely unnoticed.
"This is an ecosystem. To free up capacity in hospitals, you have to attend to social care. The NHS will collapse next week if social care collapses today.
"We need an immediate injection of cash into the sector. If we can increase the salary of lorry drivers we should be able to do it for frontline social care workers who fought their way through this pandemic."
The warning comes as the Royal College of Nursing Scotland said ministers need to consider reintroducing Covid restrictions in order to alleviate the pressure on the NHS.
Norman Provan, the trade union's associate director, said: "The government have to consider whether further restrictions have to be put back in place.
"I know that that is really unpopular with the general public, who are just beginning to think that things are getting back to normal, but it's not for people who work providing care.
"It is absolutely desperate out there and if their relatives were seeking care just now they would approach that quite differently."
Soldiers will be drafted in to drive ambulances from this weekend following reports that some patients have faced very long waits for emergency help to arrive.
They include a pensioner who died in Glasgow after having to wait 40 hours for an ambulance, and an 86-year-old woman who had to lie on her kitchen for eight hours after falling and breaking her hip.
In some cases the problem is caused by ambulances queuing for hours before being are able to hand over their patients to accident and emergency, due to the volume of patients in the hospital.
The health secretary told BBC Radio's Good Morning Scotland he was aware a "whole systems approach" was required address the current problems.
He said: "I can give absolute assurance that we are working urgently, and hopefully I can give some detail of this very imminently, in terms of a winter plan to free up beds back into social care.
"We know that there's about 1,500 people who are delayed discharge - they're clinically safe to discharge from hospital - but a portion of them don't have a care package in their local communities and we're working really hard to quickly try to resolve that to free up bed space."
Mr Yousaf described the situation as "the biggest crisis that anybody has ever faced in our lifetime and certainly in the NHS' existence".
He refused to rule out setting up field hospitals to cope with patient numbers but stressed they would present challenges.
"The difficulty is you could easily set up beds - we have beds and equipment to do that - what we don't have is the workforce," the health secretary added.
"And the Army don't have a huge pool of doctors that are just sitting there not doing anything. In fact the full-time doctors are very much based in the NHS and then if they have to go to deployment in armed service they get permission from the NHS to go and join army personnel overseas."
Mr Yousaf added: "I definitely wouldn't rule it out entirely but we have to look at whether or not we would end up pulling people out of acute sites at the moment to staff those beds."
The Scottish government also said it was continuing to work with health and social care partnerships to provide support around the current challenges facing the sector.
Dr Daniel Beckett, of the Society for Acute Medicine, said many patients could not leave hospital as they do not have a package of care in place.
The acute care consultant said the main challenge was not Covid patients, who are generally younger and unvaccinated, but those suffering from conditions such as cancer, heart disease and diabetes.
"The numbers of patients that are coming through the front door and being admitted into acute medical units are high, certainly high even for winter, and much higher than we would expect at this time of year," Dr Beckett said.
"And those patients are sicker and more complex than normal and that's as a result of chronic disease management being different over the past 18 months."
Dr Beckett added patients are spending longer in hospital as a result and when they are medically fit for discharge, staff are struggling to access packages of care.