John Kerry says Glasgow COP26 is the last best hope for the world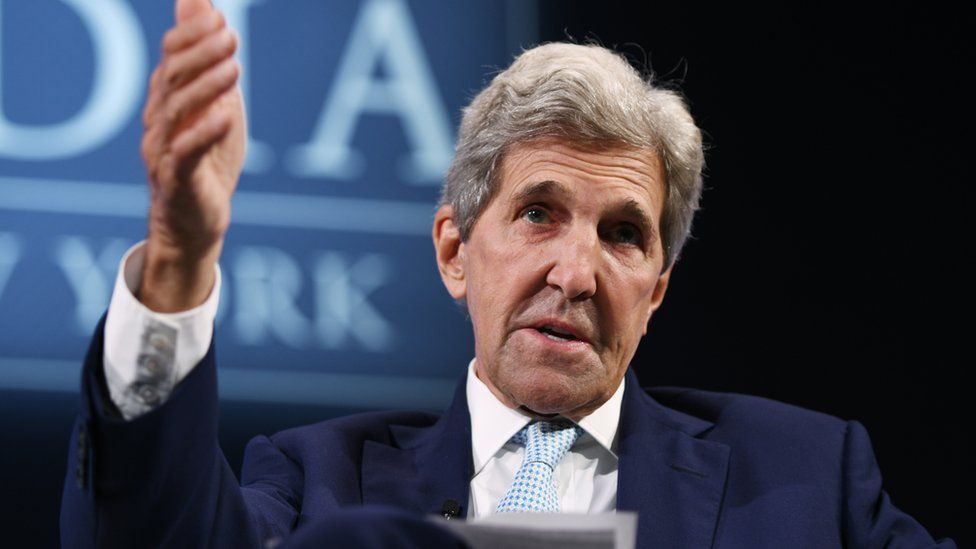 America's climate envoy John Kerry says the COP26 climate change summit in Glasgow is the "last best hope for the world to get its act together".
Mr Kerry told the BBC that key countries were pursuing policies that border on being "very dangerous".
He said that if greenhouse gas emissions were not reduced enough over the next nine years there was no chance of meeting long-term targets.
The aim is to hold the rise in the earth's temperature to 1.5C.
Scientists have said that would require global carbon emissions to fall by 45% from 2010 levels by the end of this decade.
But apart from a brief period during Covid-19 lockdowns, emissions are still rising.
China, the world's biggest emitter, will be key to any hopes of a strong outcome at COP26, when it is held in Glasgow from 31 October to 12 November.
Leaders and delegates from around the world will attend the summit, including Mr Kerry and US President Joe Biden.
'Greatest test of global citizenship'
Mr Kerry has previously said the US will push for rapid action after four years of "reckless behaviour" under previous President Donald Trump.
He said the US would now move forward with "humility and ambition" in the global negotiations.
A former presidential candidate, Mr Kerry has long been a powerful voice in climate politics. As President Obama's Secretary of State he played a key role in securing the Paris agreement in 2015.
"The truth is emissions are going up around the world, not down in enough countries, and key countries are pursuing policies that border on being very dangerous for everybody."
Mr Kerry has previously called on China to increase the speed and depth of its efforts to cut carbon.
China has promised to peak emissions by 2030 - but the US diplomat said that was not good enough.
"If you don't reduce enough between 2020 and 2030 the scientists tell us we can't get where we need to go. We will not be able to hold the earth's temperature rise to 1.5 degrees and we won't be able to achieve net zero by 2050."
Mr Kerry said he wanted Glasgow to raise the ambition of the 20 major economies in the world.
He said he would be looking for definite road-maps to net zero and money to help less developed countries also reach their goals without suffering economic hardship.
Mr Kerry called this the "greatest test of global citizenship" he could think of.
"Glasgow is coming at a point where these scientists have told us we have about nine years remaining within which to make the most critical decisions. Those decisions have got to really start in earnest and in a significant sum in Glasgow."
"We have to get on the road here and we've been talking about it for 30 years.
"So this is really what Glasgow is about, the last best hope to do what the scientists tell us we must which is to avoid the worst consequences of climate by making decisions now and implementing them now."
COP26 President Alok Sharma has also said world leaders must act now to limit global warming.
Mr Sharma told the BBC's No Hot Air podcast the aim was to get countries to "stick with the goals" agreed at the Paris summit in 2015.
He said: "World leaders came together and said that they would act to limit global temperature rises to well below 2C, aiming for 1.5C and that's what we want to try and achieve.
"I think Glasgow has to be the moment that the world acts. We've got some commitments but we need to go further."
Mr Sharma added: "We need to make sure that we can say with credibility that we've kept 1.5C in reach.
"Now is the time for all of us to act, but particularly for the biggest emitters - the G20 nations and the developed countries who promised finance to support developing countries - they also need to step up."