COP26: Glasgow's UN climate conference opens with key speeches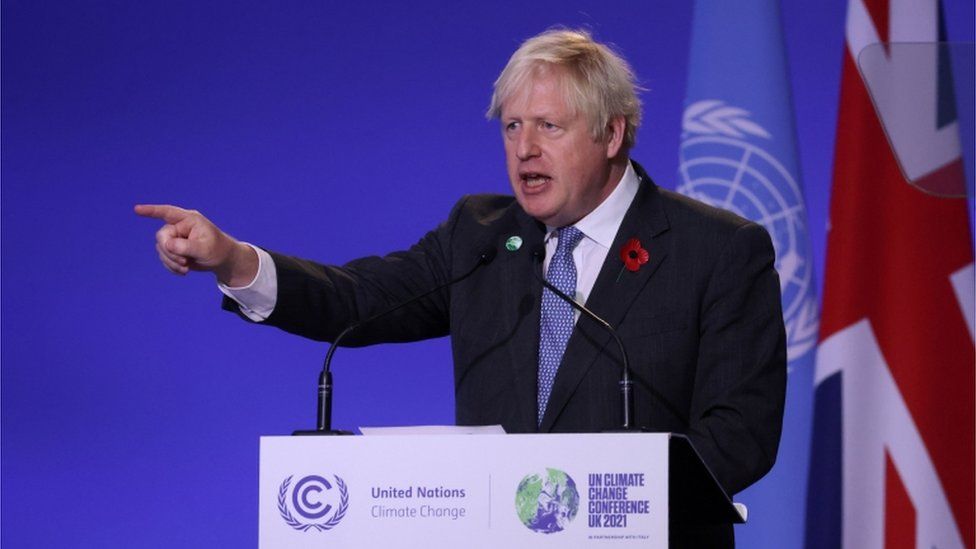 Prime Minister Boris Johnson has addressed world leaders at Glasgow's COP26 climate change summit.
Earlier he welcomed about 120 heads of state to the UN event, including US President Joe Biden.
The UK is hosting the two-week conference, which was delayed by a year because of the coronavirus pandemic.
About 25,000 delegates are attending and thousands of activists have also travelled to Scotland's biggest city for fringe events and protests.
The opening ceremony of the COP26 summit began with Skye musician Brìghde Chaimbeul, 22, performing an arrangement of traditional melodies ahead of Mr Johnson's speech.
The PM told leaders and delegates that the "anger and the impatience of the world" would be uncontainable "unless we make this COP26 in Glasgow the moment that we get real about climate change".
After the opening address, climate activists from vulnerable parts of the world, including one from the Amazon, spoke about the threat climate change poses to them.
Prince Charles, UN Secretary General Antonio Guterres and Sir David Attenborough also spoke.
In the first key session of the gathering world leaders will outline their own climate plans.
Leaders from nations across the globe earlier filed through a large hall in the Scottish Event Campus on the banks of Clyde to pose for photographs with the UK Prime Minister and United Nations Secretary General Antonio Guterres. They include;
German Chancellor Angela Merkel, Taoiseach Micheal Martin, French President Emmanuel Macron and Spanish Prime Minister Pedro Sanchez.
Israeli Prime Minister Naftali Bennett and Kuwait's Prime Minister Sheikh Sabah al-Khalid al-Sabah have arrived at the conference.
Sierra Leone's President Julius Maada Bio, Prime Minister Edouard Ngirente from Rwanda, Democratic Republic of the Congo's President Felix Tshisekedi and Malawian President Lazarus Chakwera are among the leaders representing countries on the African continent.
China's Xi Jinping and Russian President Vladimir Putin have said they will not be there. BBC political editor Laura Kuenssberg said President Xi is sending a written statement to the COP meeting, not a video one, and questions remain over whether Turkey's leader, President Erdogan, is going to attend.
Mr Biden landed at Edinburgh airport on Air Force One shortly before 11:00 and travelled west to Glasgow.
His aircraft was one of many conveying politicians and delegates to the climate change conference.
Scotland's First Minister Nicola Sturgeon said she understood that the air travel involved may send a "mixed message" - but agreed that more progress is made when leaders meet in person.
"Given all of the travel required to get here, it even further increases the pressure on the shoulders of world leaders to make sure it's worth it," she said.
Ms Sturgeon met Greta Thunberg and fellow campaigner Vanessa Nakate, from Uganda, inside the blue zone.
Speaking at an event hosted by the environmental organisation WWF, Ms Sturgeon said voices such as Ms Thunberg's were "so important" as they challenge political leaders from across the globe on "the hard realities of our own lack of delivery".
The Swedish environmental activist was greeted by hundreds of supporters when she arrived in Glasgow by train on Saturday.
Ms Thunberg has previously been critical of the Scottish government's climate policy, saying that the country was "not a leader on climate change", as the First Minister had previously stated.
Scotland has pledged to cut emissions by 75% by 2030 and be net zero by 2045, but the last three years of targets have been missed.
Glasgow residents and commuters have faced travel disruption because of the summit.
On the M8, congestion connected with road closures for the summit was exacerbated by traffic accidents during the morning with tail-backs from the city centre all the way to Glasgow Airport reported
The Erskine Bridge was closed at short notice for 90 minutes to allow the Greenpeace vessel the Rainbow Warrior, which is carrying youth climate activists, to pass safely beneath.
Closures near the COP26 site on the Clydeside Expressway and Clyde Arc - known as the Squinty Bridge - increased peak-time delays.
But train services from London to Glasgow resumed on Monday morning after the West Coast line's closure on Sunday. Overhead electric wires had been damaged by a fallen tree in England.
Glasgow's Central Station has now caught up with the backlog and duty manager Alan O'Neill told BBC Scotland that trains are back to normal and the station is running well.
He said: "We've had some silent protesters which were no trouble. Passengers are fine and the trains have caught up. Everything is flowing easy enough."
Mr O'Neill added that lateral flow tests and face masks were being distributed at the main entry points as many people travelling from England were unaware face coverings are still mandatory in most indoor public settings in Scotland.
The COP26 global climate summit in Glasgow in November is seen as crucial if climate change is to be brought under control. Almost 200 countries are being asked for their plans to cut emissions, and it could lead to major changes to our everyday lives.