COP26 protesters march on Glasgow defence firm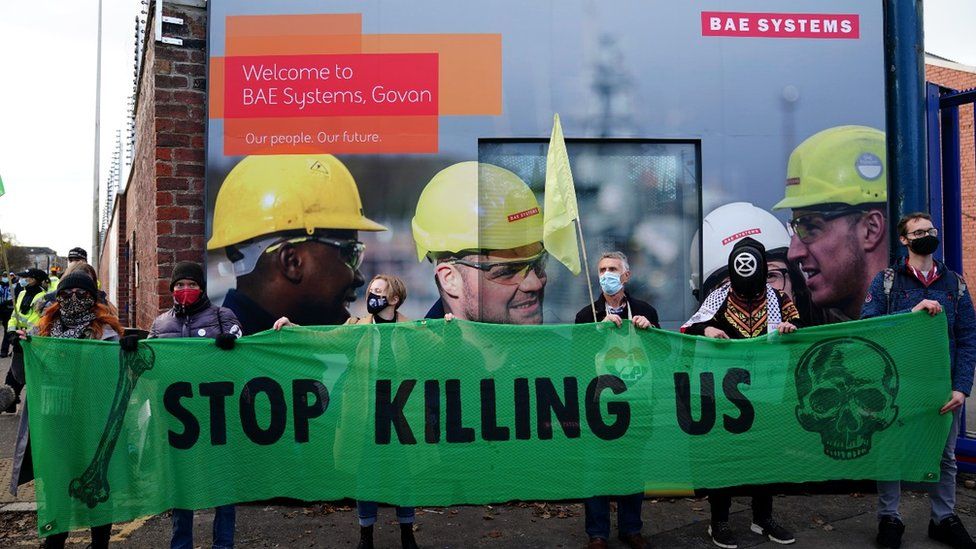 Climate change protesters have targeted UK government offices and a shipyard in Glasgow.
Hundreds of Extinction Rebellion activists assembled at an immigration centre in the Cessnock area before marching to nearby BAE Systems.
Police have lined the gates of the Govan yard where protesters have blocked the road.
Elsewhere, people were briefly stopped from going into a former homeless shelter taken over by activists.
Douglas Renshaw, of Extinction Rebellion Glasgow, said BAE Systems had been targeted because of what he described as the link between military action and climate change.
He said: "Our governments have allowed spending on arms to outstrip spending on climate solutions.
"They've created a brutal world where many face conflict over ravaged resources."
Protestoe Bhavini Patel told BBC Scotland she was part of a protest outside the Home Office immigration facility in Cessnock to highlight what will happen to people forced to move from their homes by climate change.
She said: "We're going to see lots of displaced form the climate emergency.
"They want to be in their homes, they want to be in their country, they don't want to be here but they do need our support and solidarity right now."
Protesters gave speeches and banged drums outside the Home Office building before setting off for BAE Systems.
An occupation called Baile Hoose has taken over an empty homeless shelter in the Tradeston area which is owned by Glasgow City Council.
The move is designed to give shelter for activists who have not been able to secure accommodation.
The Baile Hoose tweeted that its gates had been locked after the police arrived but later said people were being allowed to enter and leave.
Elsewhere, protesters dressed as the Pokémon character Pikachu have gathered opposite the COP26 conference venue.
They were demanding an end to Japan's support for coal power.
Leading climate change campaigner Greta Thunberg has shared her dismay at the COP26 summit in a tweet that describes it as a "greenwash festival".
Skip twitter post by Greta Thunberg
#COP26 has been named the must excluding COP ever.

This is no longer a climate conference.

This is a Global North greenwash festival.

A two week celebration of business as usual and blah blah blah.

— Greta Thunberg (@GretaThunberg) November 4, 2021
The BBC is not responsible for the content of external sites.
End of twitter post by Greta Thunberg
On Wednesday five people were arrested at demonstrations across Glasgow.
Scuffles broke out during an Extinction Rebellion demonstration outside the SSE energy company as two activists tried to force their way into the building.
One of those arrested - 60-year-old Andrew Naylor from Edinburgh - has appeared in court accused of spaying paint at three Thames Valley police officers who were on duty.
He made no plea and was released on bail on condition that he stays away from Glasgow city centre until the end of the summit.
Most of the demonstrations against corporate "greenwashing" were peaceful as officers accompanied marchers.
On Friday, thousands are expected to march through Glasgow with the Fridays for Future movement.
Saturday will see another large march from the COP26 Coalition, with organisers saying tens of thousands are expected.
The COP26 global climate summit in Glasgow in November is seen as crucial if climate change is to be brought under control. Almost 200 countries are being asked for their plans to cut emissions, and it could lead to major changes to our everyday lives.