Scotland expands vaccine rollout after six Omicron cases found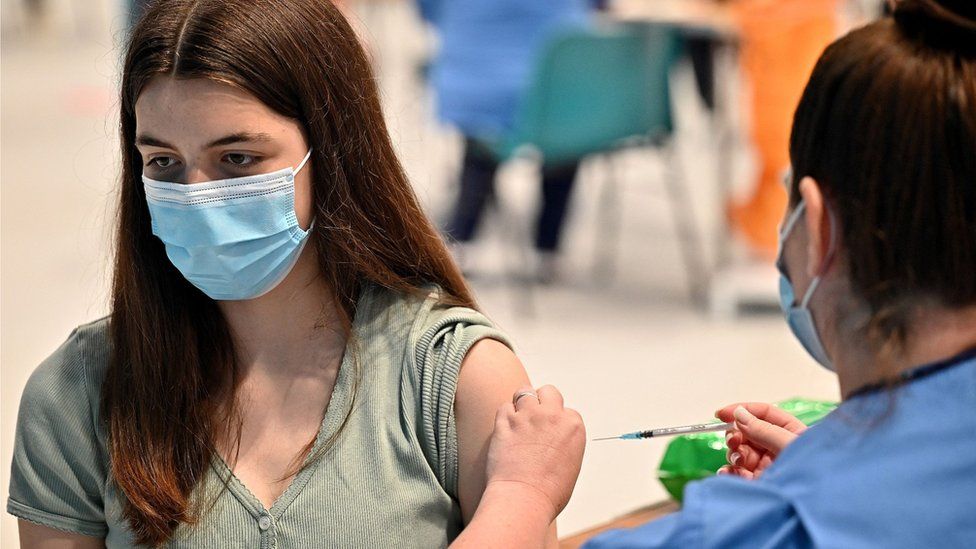 The Covid booster programme is to be expanded and speeded up after six cases of the new Omicron variant of Covid were identified in Scotland.
Boosters will be offered to over-18s, and the wait after a second dose is being cut from six to three months.
Children aged 12 to 15 will also now be invited for a second jab.
Scotland's chief medical officer, Dr Gregor Smith, welcomed the advice from the JCVI, which said it wanted to help stop a potential wave driven by the new variant.
Dr Smith said: "Scotland has already started work on its implementation, including the recommendation that boosters can now be given to all adults no less than three months after a second dose.
"Urgent talks with health boards and vaccination partners are under way and further information on the delivery of this advice will follow as soon as possible."
The JCVI said those aged 12 to 15 should be invited for a second jab three months after their first.
It has also recommended that severely immunosuppressed people should be offered a fourth dose of the vaccine.
The advice came as it emerged 11 Omicron cases have now been detected across the UK.
Four have been identified in Lanarkshire and two in Greater Glasgow and Clyde. Those affected are isolating but none are in hospital.
Contact tracing is taking place and all close contacts of suspected Omicron cases will be advised to self-isolate for 10 days, regardless of their vaccination status.
First Minister Nicola Sturgeon said additional testing would be introduced in areas where cases of the new variant are identified.
She said there was no evidence that community transmission was sustained or widespread at this stage - but that even limited community transmission underlined the importance of complying with the steps to tackle the spread of the virus.
Ms Sturgeon told a media briefing on Monday: "At this stage we are asking people to significantly step up and increase compliance with all existing precautions.
"Face coverings; hygiene like washing hands and surfaces; vaccination; and of course testing yourself with LFDs and testing before you mix with people from other households."
She added: "As of today, I am asking employers to maximise the potential of home working."
Asked about whether the new variant could affect Christmas, the first minister said: "I'm not asking anybody today to put plans on hold.
"Right now what I'm asking people to do is to up the level of compliance with all of the protections that are still in place. These are protections, not restrictions."
Omicron was first reported in South Africa, but cases have been detected in countries across the world, including Australia, Germany, Israel and Hong Kong.
Ms Sturgeon said there was no evidence of any link to the recent COP26 summit in Glasgow, or the Scotland rugby team's match with South Africa at Murrayfield earlier this month.
Scotland's CMO Dr Smith said it was currently believed that the first confirmed case in Scotland had tested positive on 23 November.
No new Covid protections were announced by the first minister but clearly the Scottish government is keeping that under review.
And Nicola Sturgeon has made clear that she favours stricter rules - UK wide - for international arrivals.
There is already a quarantine requirement for those coming to the UK from a range of countries in southern Africa that have been added to the "red list".
PCR tests within 48 hours for all international arrivals are also being brought in across the four nations.
Ms Sturgeon and her counterpart in Wales, Mark Drakeford, have now written to the prime minister suggesting an eight-day self-isolation period for all those arriving in the UK from abroad.
This is being suggested as an additional precaution as scientists try to work out how dangerous, or otherwise, the Omicron variant is.
The first ministers are also seeking assurances that the Treasury would support any new Covid measures, should they be required.
But Nicola Sturgeon stressed that she hopes a return to restrictions will not be necessary.
Ten countries in southern Africa have been added to the travel "red list" in response. All overseas travellers arriving into the UK from 04:00 on Tuesday will need to take a PCR test.
Ms Sturgeon said it was important to "prepare for the worst and act on a precautionary basis".
She added: "But that does not mean we are not hoping for something considerably short of the worst.
"We are still hoping for the best and that our developing understanding of this variant will reduce rather than increase our concern.
"I very much hope that additional protections can be avoided and while we will act on a precautionary basis we will seek to act at all times in a proportionate manner."
Ms Sturgeon and Welsh First Minister Mark Drakeford also want to see tougher travel restrictions for people arriving in the UK.
They wrote to Prime Minister Boris Johnson proposing that people should self-isolate for eight days, with tests on day two and day eight.
However, that was ruled out by the prime minister's spokesman, who said such a move would have a detrimental effect on the travel industry.
Ms Sturgeon and Mr Drakeford also called for urgent talks with Mr Johnson, and for a Cobra committee meeting to take place "as soon as possible".
But Downing Street said that no Cobra meeting was scheduled.
The UK government has tightened the rules on the wearing of face coverings in England, bringing them closer into line with those in Scotland - where there is also some use of vaccine passports for large events, and more stringent advice on home working.
The new travel restrictions were announced on Saturday as the World Health Organization designated Omicron a "variant of concern."
Early evidence suggests the new Omicron variant has a higher reinfection risk.
The first UK cases - picked up from analysis of recent positive Covid tests from all around the country - were confirmed on Saturday in Essex and Nottingham.
Professor Anthony Harnden, deputy chairman of the Joint Committee on Vaccination and Immunisation (JCVI), told BBC Breakfast it was "almost inevitable" that there would be many more cases.