Extra payments for people affected by Storm Arwen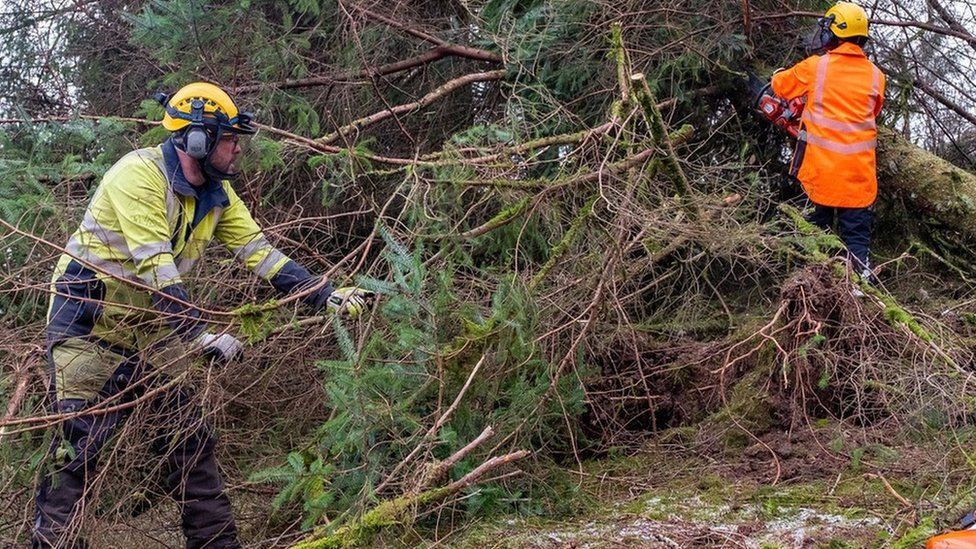 People who were left without power following Storm Arwen are to be awarded extra compensation.
Scottish and Southern Energy Networks (SSEN) is adding 20% to the compensation rates set by the regulator Ofgem.
It means customers who were left without power for a week will receive an £154 on top of their £770 statutory payment.
SSEN says it will prioritise those worst affected for payment.
Both the standard and additional compensation payments will be made automatically.
SSEN managing director, Chris Burchell, said: "The intensity and impact of Storm Arwen brought many challenges to SSEN, but I fully recognise the challenges faced by the communities we serve have been even greater.
"We recognise this is an exceptional situation and are making a fair and proportionate goodwill increase to the standard compensation available for customers, supporting those most affected.
"This 20% enhancement will be paid automatically and combined with lifting the payment cap, for those last to be reconnected, will result in an additional payment of £560."
SSEN has also made a £500,000 contribution to its fund that provides grants towards energy resilience measures, such as back-up generators in communities.
Jim Savege, chief executive of Aberdeenshire Council, said: "This announcement from SSEN will be incredibly welcomed, on a community and individual level.
"The impact of Storm Arwen will have created hardship for lots of people and I am hopeful that this announcement will make a difference and keep them resilient in future."
"What our communities have been through in the past week or more has been unprecedented. It is testament to the power and resilience of the communities that they have supported each other throughout this, and my huge thanks to everyone who stepped up."