Scotland's 100% renewables electricity target narrowly missed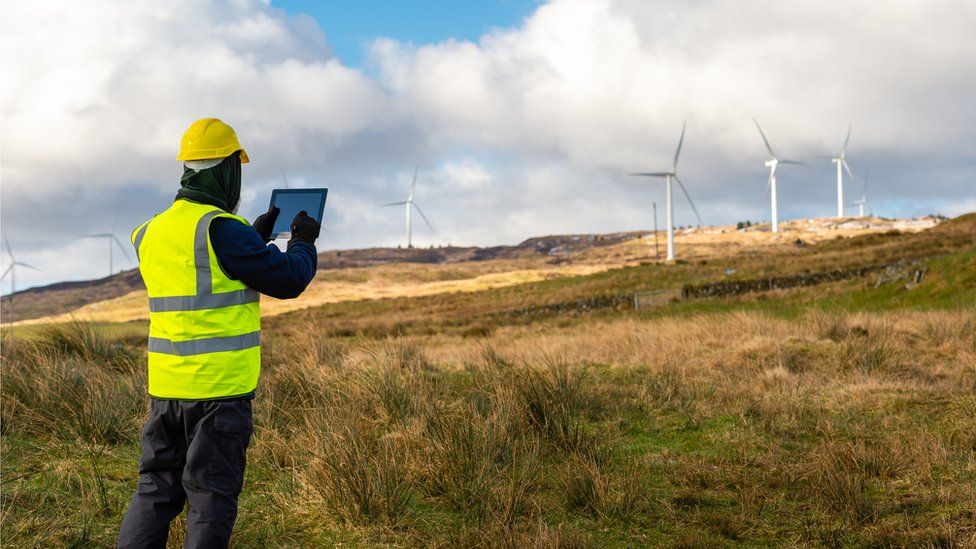 Scotland narrowly missed a key environment target for the equivalent of 100% of electricity used in 2020 to be generated from renewable sources.
Official figures show gross consumption from renewables - minus net exports - was 98.6%
In 2019, Scotland met 90.1% of its equivalent electricity consumption from renewables, according to Scottish government figures.
The 100% target was set in 2011, when renewable technologies generated just 37% of national demand.
Some of Scotland's electricity is sold overseas, meaning it also uses significant amounts of non-renewable electricity.
The latest full-year figures also showed:
25.4% of total Scottish energy consumption came from renewable sources, up from 24.0% in 2019.
61.8% of all electricity generated was from renewables and 88.1% was from low carbon sources.
Over the first nine months of 2021, provisional figures show generation was down 22.3% compared with the same period in 2020.
The Scottish government said this was "mainly due to continued mild weather over the year adversely affecting hydro and wind generation".
According to the Energy Statistics for Scotland, electricity consumption also dropped by 5.7% from 2019 to 2020.
However, gas consumption rose slightly by 2.4% on 2019.
Scotland has some of the most ambitious climate targets in the world, with its Climate Change Bill setting out a legally-binding target of reaching net-zero emissions by 2045.
By 2030, ministers want renewable energy generation to account for 50% of energy demand across electricity, heat and transport.
Michael Matheson said he was "proud of the progress Scotland has made over the past year".
The energy secretary added: "This statement shows we are continuing to make good progress with the equivalent of 98.6% of gross electricity consumption being from renewable sources in 2020, which is up from 89.8% in 2019.
"Whilst we do have many challenges ahead of us if we are going to meet our ambitious targets, we have laid the groundwork in 2021 for Scotland to take important leaps forward towards net zero."
Related Internet Links
The BBC is not responsible for the content of external sites.