Brandon Lee: The model school pupil who was a 30-year-old imposter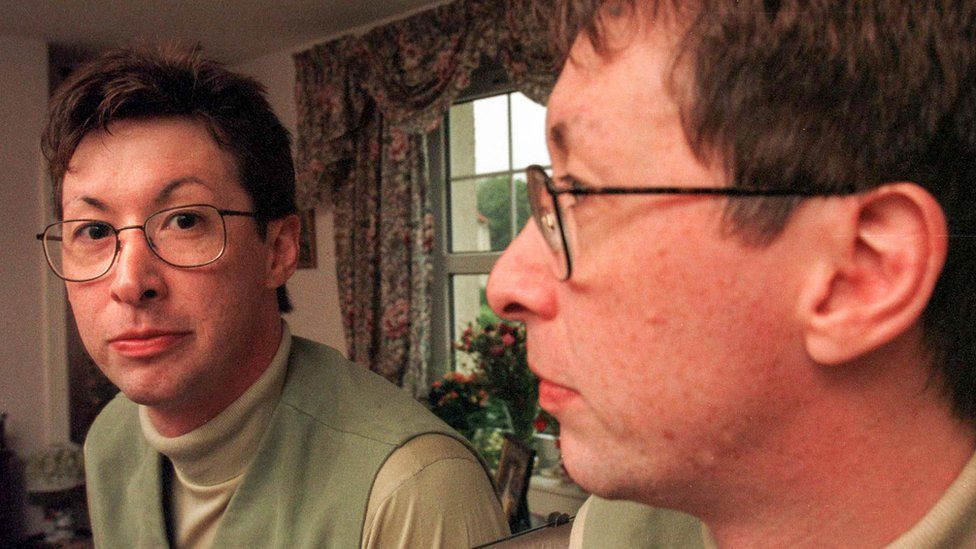 For a whole school year a new boy convinced his Scottish high school classmates and teachers that he was just a regular pupil.
But eventually the teenager who called himself Brandon Lee was exposed as an imposter called Brian MacKinnon, who had left the same school more than a decade earlier.
A new film retells the story of how a 30-year-old man, claiming to be 17-year-old from Canada, enrolled as a fifth year student at Bearsden Academy, near Glasgow, in 1993 and gained five A-grade Highers before his world collapsed.
It was a year later, while he was a student at Dundee University's medical school, that his double life was revealed by a newspaper and MacKinnon was thrown off his course.
The story gained worldwide attention, with many alarmed at the thought of young girls unconsciously consorting with a man almost twice their age.
The new film was written and directed by Jono McLeod, who was a 16-year-old classmate of MacKinnon - or Brandon, as he still calls him.
McLeod says he does not think Brandon meant to do any harm and he has interviewed other classmates and teachers for the film who agree.
"A lot of people in the class have their own take on what Brandon did but for the most part they have a fondness for him," he says.
"I know that's not across the board. The film is not a take-down of him but I don't agree with all the decisions that he made back then."
McLeod recalls that the new kid from Canada was a "bit of a geek" when he first arrived but he managed to climb the social ladder of high school life and become pretty popular - even starring in a stage production of South Pacific.
He told BBC Scotland that Brandon agreed to tell him his story but didn't want to be seen on camera.
So the 58-year-old present-day MacKinnon is played by Scottish actor Alan Cumming, who lip-syncs to the words of the real-life interview.
In the film, MacKinnon, through Cumming, says: "The thing you have to do if you really want to prevail is do the unimaginable."
MacKinnon has previously described how his family moved to Bearsden, a wealthy suburb north of Glasgow, in the 1970s, where he attended Bearsden Academy for the first time, graduating in 1980.
He went on to Glasgow University but was excluded after failing exams. Mackinnon claimed he had been unwell at the time but the university maintained the correct procedure had been followed.
MacKinnon is on record as saying he felt devastated when he was thrown out of university for the first time.
"I felt as if I had been robbed and cheated out of my place at university," he told The Herald in 1995.
He blamed a "bludgeoning and unconcerned system" for blocking his path and was determined to do what it took to get back on track.
In an interview with BBC Scotland's Jackie Bird soon after he was exposed, MacKinnon told how he had enrolled at the high school at the age of 30 by presenting two items of "bogus documentation".
These were a false letter from his father - who he claimed was a professor - and another from a tutor in Canada.
Brandon claimed his mother was an opera singer who was touring the world and that he had returned to Scotland to live with his ailing grandmother.
MacKinnon told the BBC at the time that when he first walked back through the school gates it was "nerve-racking".
"I was aware of the fact that at any moment a question could arise that I couldn't answer, I might be asked for a birth certificate, but I wasn't," he said.
MacKinnon said he could only recall meeting one teacher who had been at the school during his first time there.
"I simply kept my head down, looked shy and boyish and that's all I could do - and it presented no problems at all," he said.
He told the BBC it was a knife-edge existence at first but throughout the year it got easier.
MacKinnon said doing the school work helped him settle down but he was conscious that he had to take his foot off the accelerator pedal so that he did not stand out too much.
"I did not want to win a number of prizes in the first term and end up in the local paper," he said.
MacKinnon was long gone from the school by the time he was exposed by an anonymous phone call to the education authorities and the newspapers.
Almost 30 years later, MacKinnon shuns the limelight and wishes to remain anonymous, refusing interviews and not having his picture taken.
The film's director says he always gets asked how he did not know that Brandon was an imposter at the time.
"It is everyone's nightmare to wake up at 30 years old and be back at school, so why would anyone choose to place themselves in that situation?" he says.
Related Internet Links
The BBC is not responsible for the content of external sites.