Transgender hate crimes up 87% in Scotland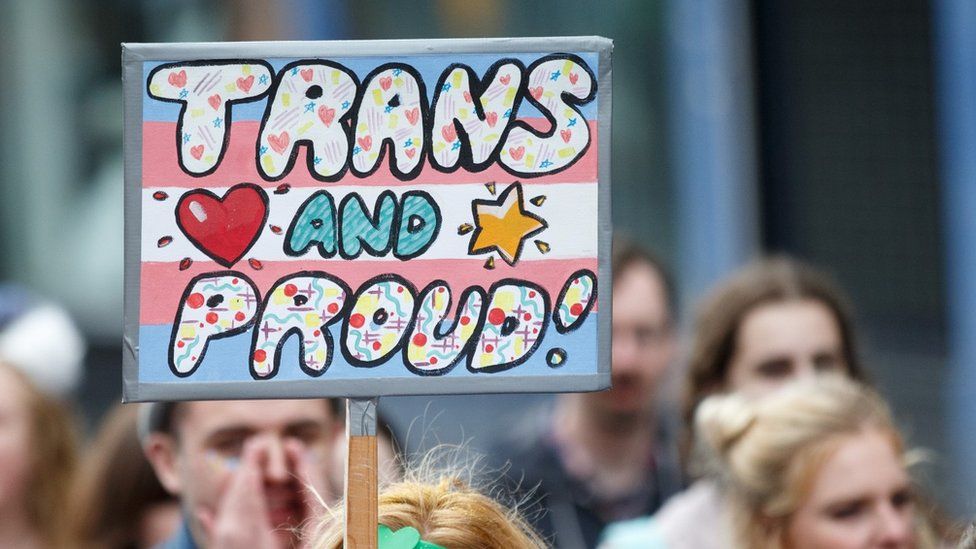 Hate crimes against transgender people rose 87% in the past year, according to the latest figures.
A report from the Crown Office said there were 84 charges aggravated by transphobia in 2021-22, compared with 45 the previous year.
Racially-aggravated incidents remained the most common form of hate crime, with 3,107 charges filed over the period - a decline of 7%.
Meanwhile, hate crimes towards people with disabilities rose by 44% to 666.
It is the first time these crimes have overtaken those aggravated by religious prejudice, of which there were 512.
Overall, the number of hate crimes charges reported was 5,640, marginally less - down 0.2% - than the 5,654 charges reported in 2020-21.
Hate crime legislation currently covers offences aggravated by a victim's race, religion, disability, sexual orientation and transgender identity.
Crimes aggravated by sexual orientation was the second most commonly reported type of hate crime, increasing by 10% in 2021-22 to 1,781.
With the exception of 2014-15, there have been year-on-year increases in these charges reported since the legislation introducing the aggravation came into force in 2010.
There have also been year-on-year increases in disability hate crime charges - with the exception of 2016-17 - since 2010.
The legislation will consolidate existing law and extends protection for vulnerable groups. It also includes a new offence of "stirring up hatred".
It's more than a year since Holyrood saw lengthy, heated debates about reforming hate crime laws in Scotland.
However, despite worrying rises in recent years, the overall number of hate crimes remains stable - with 14 fewer than the previous year.
Racially aggravated crimes continue to fluctuate but remain well down on the peak numbers seen a decade ago. Meanwhile, sectarian offences continue to decrease gradually over time.
More disturbing, though, may be the rise in crimes linked to sexual orientation - the highest number since laws were introduced in 2009. Homophobia remains the second most common type of hate crime.
Crimes linked to transphobia have also nearly doubled. Though numbers remain low - at under 100 - it could be linked to increasing public awareness of transgender identity and the ongoing political strife over gender.
And offences aggravated by prejudice against disability continue to rise. Scotland now sees more of these offences than recorded crimes linked to sectarianism.
It's worth noting that none of the above have been prosecuted under the fiercely debated Hate Crime and Public Order (Scotland) Act. A year on, no date has been set for its introduction.
Lord Advocate Dorothy Bain QC said the Crown took its responsibility to protect the public from such crimes very seriously.
She added: "Hate crime has damaging consequences for individuals, our communities and society as a whole. No-one should find themselves targeted or abused for the simple act of being who they are.
"We would urge any victim or witness to such crime to come forward and report it. They can be confident that Scottish prosecutors are committed to a robust approach to every report of hate crime they receive."
Related Internet Links
The BBC is not responsible for the content of external sites.