Alcohol deaths rise to highest level in 14 years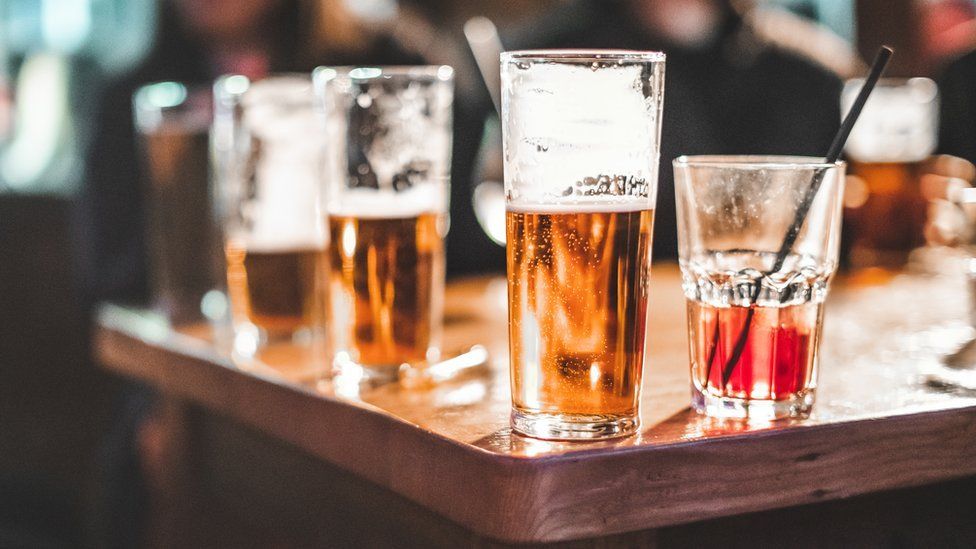 The number of people in Scotland whose death was caused by alcohol has risen again to the highest level in 14 years.
This was 31 (2%) more than the previous year, which was the highest number since 2008.
Male deaths - which were unchanged at 836 - again accounted for about two thirds of alcohol-specific deaths.
Female deaths increased by 31 to 440.
Daniel Burns, head of vital events statistics at NRS, said: "Looking at the long-term trend the number of deaths from alcohol-specific causes fell between 2006 and 2012 but has risen since and is now about the same as 2010 levels.
"In 2022, the average age at death for females from an alcohol-specific cause was 58.7 years and for males it was 60.0 years."
The rate of mortality from alcohol-specific causes was 22.9 deaths per 100,000 people in 2022, up from 22.3 the previous year. NRS said it did not consider the rise to be "statistically significant".
The alcohol death rate was 4.3 times higher in Scotland's most deprived areas than it was in the least deprived, though NRS said the "equality gap" has narrowed.
In comparison, there were 1.8 times more deaths of any cause in the most deprived areas than in the least deprived.
Alcohol-specific deaths were also higher than drug deaths in 2022, after figures released last week showed the number of drug deaths in Scotland had gone down for the first time in five years.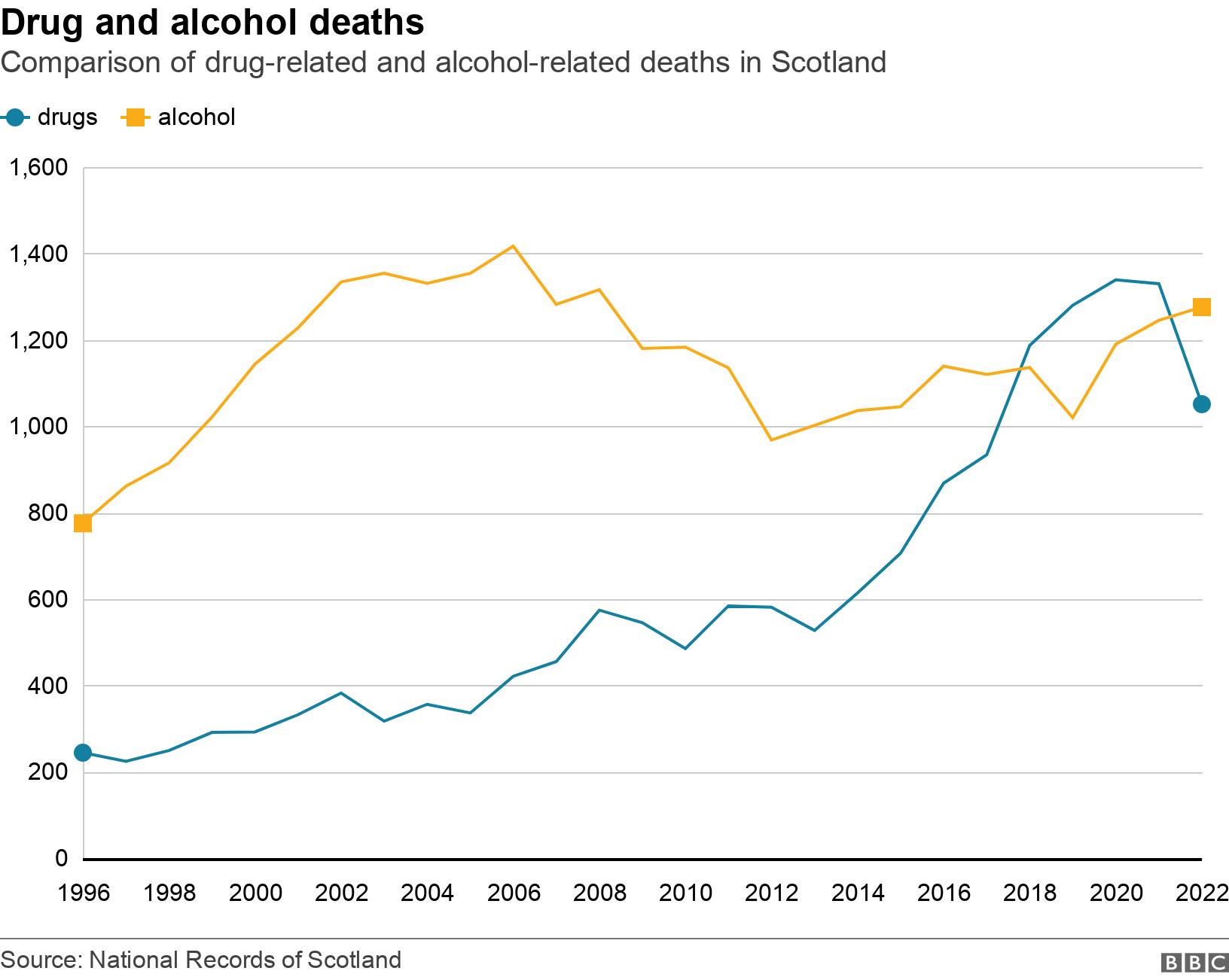 The NHS Greater Glasgow and Clyde health board area - the largest in the country - recorded the highest number of deaths with 326, followed by NHS Lanarkshire with 200 and NHS Lothian - which includes Edinburgh - with 153.
The majority of deaths logged alcoholic liver disease as an underlying cause of death - 778 in total.
Drugs and Alcohol Policy Minister Elena Whitham said more work is required to reduce alcohol-related harm.
"Every life lost is a tragedy and my sympathy goes to all those affected by the loss of a loved one through alcohol," she said.
"While we will need to better understand the reasons for this increase in deaths, I will do all I can to reduce alcohol-related harm.
"We will continue to work closely with Alcohol and Drug Partnerships (ADPs) and the third sector to address this public health priority, backed by substantial investment."
Scotland became the first country in the world to introduce minimum unit pricing (MUP) for alcohol, initially set at 50p, in May 2018.
A Scottish government-funded study published in March suggested the scheme's introduction in Scotland had led to fewer alcohol-related deaths and hospital admissions compared to England.
A Public Health Scotland evaluation published in June said MUP "had a positive impact on health outcomes, including addressing alcohol-related health inequalities" but warned it had a limited impact on the most harmful drinkers.
Alcohol Focus Scotland said the third consecutive increase in alcohol-related deaths was "completely unacceptable".
The organisation's deputy chief executive Laura Mahon said the death toll would be higher without the MUP, but she called for it to be increased to 65p "to help save many more lives".
She added: "The Scottish government must deliver on the commitments made in the 2018 alcohol strategy.
"This includes a strong focus on preventing people from developing alcohol problems in the first place alongside urgent action to combat the 40% reduction in access to specialist alcohol services over the last decade."
The call for MUP to be increased was echoed by the Scottish Health Action on Alcohol Problems.
Chairman Dr Alastair MacGilchrist said the government "must address the wider availability and marketing of alcohol, in order to tackle the inescapable exposure to alcohol experienced by children and other vulnerable groups, such as people in recovery".
Scottish Conservative health spokesperson Sandesh Gulhane said MUP was "simply not working", adding: "It is increasingly proving to be a blunt instrument to tackle a complex problem."
Scottish Labour said the effect on the country's most deprived communities was "a national scandal".
Public health spokesperson Carol Mochan said: "The SNP's failure on public health is costing lives and devastating the poorest communities - we urgently need a comprehensive plan to support treatment services and ensure those struggling with alcohol can get the help they need."
Scottish Liberal Democrat leader Alex Cole-Hamilton accused ministers of cutting funding to drug and alcohol partnerships.
"The Scottish government have been asleep at the wheel," he said.