Cell therapy hope in blood cancer fight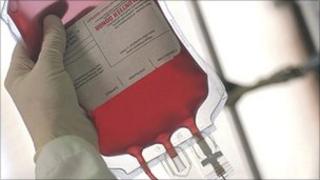 Edinburgh researchers have developed a new treatment which offers hope to organ transplant patients who go on to develop blood cancer.
Edinburgh University used cell therapy treatment in an attempt to combat the problem where one in 10 people who receive an organ develops cancer.
The disease proves fatal in 50% of cases.
The team found patients who received the new treatment remained free from cancer for up to nine years.
The work has been published in the journal Transplantation.
Patients who developed blood cancer were treated with white blood cells, known as T cells, which patrol the body and identify and kill virus-infected cells.
The team treated patients who suffered from a type of blood cancer called post-transplant lymphoproliferative disease (PTLD).
It is associated with Epstein-Barr virus (EBV), a herpes virus that is carried by more than 90% of the population.
The virus is generally harmless but can cause tumours in transplant patients whose immune systems are heavily suppressed to prevent rejection of the transplanted organ.
Up to 10% of patients may develop the cancer in the first few years following transplant and around 50% of those will die even with standard treatment.
The university team grew T cells in a laboratory and gave them to 33 PTLD patients - who had not responded to standard treatments - for one month.
About half the treated patients showed a good response after six months.
The study shows that 90% of those who responded initially have remained cancer-free for between four and nine years.
Lead researcher Dr Tanzina Haque said: "Our results are very encouraging and show that not only are our cells effective in the short-term, but that they can also induce a long-term remission of PTLD in patients with more refractory disease."