Wind turbine plan for Edinburgh seafront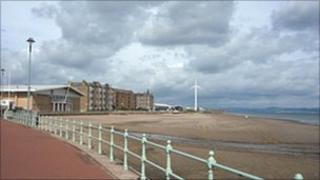 A wind turbine could soon be a new seaside feature in Edinburgh as part of community renewable energy plans.
Portobello Energy Descent and Land Reform (Pedal) has been awarded £72,000 to launch a bid to build the turbine on the Edinburgh seafront.
It plans to pay back the £500,000 it would cost to construct the windmill by selling the energy it creates to local businesses including Lothian Buses.
The bid cash is from the Scottish government to help set up the project.
It would see the creation of the first commercial-scale community power project in any Scottish city.
Jane Lewis, chairwoman of Pedal, said: "We are thrilled that the crucial next stage in this exciting project has received funding.
"Our initial investigations suggest that a wind turbine here could generate plenty of clean energy.
"However, there's still a long way to go before the turbine goes up, and we will be consulting widely with the local community later in the year."
Tom Black, project manager with Pedal, said: "If it does go ahead, it could bring real benefits by reducing carbon emissions, bringing in money that would be made available for local projects, and raising awareness of the renewable energy resources that Edinburgh has on it's doorstep."
The turbine being considered would be 47.5m from the base to the tip of the blade.
If planning permission is granted, Pedal would be looking for a bank loan to meet the £470,000 costs involved in buying and constructing the turbine.