Edinburgh tram boss Jeffrey calls for political courage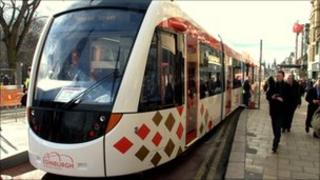 The man in charge of Edinburgh's tram project said political leaders must have the courage to support major public infrastructure projects.
Richard Jeffrey, chief executive of Tie, is under political pressure to find a way of ending a dispute with the construction firm, Bilfinger Berger.
The wrangle has brought work on the tram network to a virtual standstill.
However, Mr Jeffrey said politicians must not be "frightened" of large, long-term projects.
He told BBC Scotland that failure to do so would leave Scotland with decaying infrastructure.
Mr Jeffrey said that "public hangings" over responsibility for the project's delays should be saved for after its completion.
"Proposing things takes courage, and proposing and supporting these sort of long-term infrastructure projects does take political courage," he said.
"I think we've got to be very careful that we don't end up in a situation where our politicians are frightened to make these long-term infrastructure investment decisions because they're frightened about what people are going to say.
"I think that this mentality of opposing things might be politically expedient but actually it leaves us as a society with a decaying infrastructure and no investment for the future."
The dispute between the company running the Edinburgh project on behalf of the city and the construction firm building the line could end up in the courts.
Tie hopes the tram network project will be finished by the end of 2012.
Finance Secretary John Swinney warned that the beleaguered tram project was damaging Edinburgh's reputation.
He said it was in stark contrast with the many major projects elsewhere in Scotland, which were being completed on time and on budget.
He said: "It is certainly damaging the City of Edinburgh's reputation and I think that's a cause of concern for all of us who're concerned about the interests of our capital city and the interests of our country."
Howard Johnston, of Rail magazine, said: "At the rate of increase of car ownership in Edinburgh, we are going to see that in five or 10 years, it will no longer be possible to drive through Edinburgh without taking half an hour to do so.
"We don't have people who can actually see beyond the end of their noses and 10 years represents two political terms and people have to see that their will be massive long-term benefits."
Jenny Dawe, Edinburgh City Council's leader, said: "I remain absolutely convinced that trams will be fantastic for everyone in the city, providing clean, quick, reliable transport to keep Edinburgh moving in the future in conjunction with our great bus service."