Teacher sentenced over sex with pupil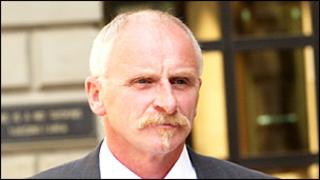 A former religious education teacher at a Midlothian school who admitted carrying out an affair with a teenage pupil has been given community service.
Thomas Docherty, 51, from Innerleithen, quit a high school in Dalkeith when the relationship was exposed.
At Edinburgh Sheriff Court he was sentenced to 240 hours community service.
In May he admitted sexual intercourse while the pupil was 16-18 years old and he was in a position of trust.
The affair happened between August 2005 and June 2007.
The court heard how he had taken the teenager home for sex while his wife was out.
The girl was described as "vulnerable" and "naive" seeking a father-figure.
Passing sentence, Sheriff Alistair Noble said: "You appear as someone who has committed offences of exceptional seriousness involving a gross breach of trust between yourself and a schoolgirl who you taught.
"However matters progressed they began when the complainer was 16 and when you were 46 and in terms of the narrative I heard your initial actions were clearly one of a predatory nature. The complainer was a vulnerable school girl."
Sheriff Noble said it was a very narrow decision but was prepared to put Docherty on probation for three years with the condition he attends a community sex offenders programme.
He also placed him on the sex offenders register for three years.
His wife, who is standing by him, was in court to support him.
Fiscal depute Melanie Ward, prosecuting, told how Docherty and the girl came into contact at school and during organised out-of-school activities.
He also ran martial arts classes at the school and asked her to help him put equipment away so she remained behind when others had left.
Solicitor Andrew Gibb, defending Docherty, said: "He has never been in trouble in his life. He has brought shame on himself for his conduct. His wife and family are standing by him. It is more than he deserves in many ways."