Forth Rail Bridge owners oppose world heritage status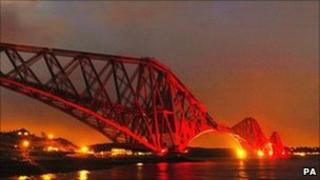 The owners of the Forth Rail Bridge are not backing the move for it to be awarded World Heritage site status.
Network Rail said it was concerned by the move as it believes it would impose "additional burdens" on its ability to operate the 120-year-old bridge.
The Forth Bridge and Shetland's Iron Age settlements are among six Scottish bids for World Heritage site status.
A total of 38 UK places are competing to be recognised by United Nations' cultural body Unesco.
A Network Rail spokesman said: "Network Rail takes it role as custodian of the Forth Bridge extremely seriously.
"This is why the company has invested £200m in restoring the bridge to its former glory during a decade-long project.
"However, Network Rail cannot afford to lose sight of the fact that the Forth Bridge is an operational structure.
"It would therefore not be appropriate for us to place additional burdens or requirements on it which could potentially impact on the future needs of the railway.
"It must remain the company's priority to make certain that we are not prohibited in further improving the services between Edinburgh, Fife and the north east."
Fife Council's deputy leader Elizabeth Riches said: "Inscription as a Unesco World Heritage Site is an acknowledgement of the truly global significance of such places.
"It would be a real honour and privilege for Fife to gain this accolade and could potentially bring real social and economic benefits."
The other Scottish bids include Arbroath Abbey, where the Declaration of Arbroath was signed in 1320.
The Flow Country of Caithness and Sutherland, St Andrews in Fife and the buildings of Charles Rennie Mackintosh in Glasgow are also bidding.
Offa's Dyke and the city of York are among the 38 UK sites put forward.
The UK government will submit a final list next year with a view to making six nominations in 2012.
St Kilda, Edinburgh's Old and New towns, Neolithic Orkney and New Lanark are part of the existing list of 800 sites worldwide.