'Coathanger Christ' goes on show in Edinburgh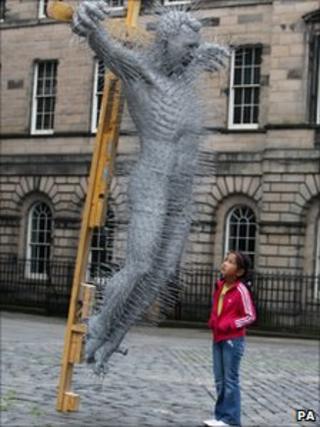 A dramatic crucifixion figure made out of 3,000 coathangers has gone on display outside St Giles' Cathedral on Edinburgh's Royal Mile.
The 9ft statue, by Fife artist David Mach, is part of a project to commemorate the 400th anniversary of the King James Bible.
Edinburgh's City Art Centre is to host an exhibition of his coathanger figures and large-scale collages next summer.
Mr Mach also created the Big Heids on the M8 motorway in North Lanarkshire.
The artist said biblical imagery was a fine way to explore the hypocrisies of the contemporary world.
Various elements from the project are to go on show throughout the UK in the coming year, including a collage at St Paul's Cathedral in London and a crucifixion sculpture at Gloucester Cathedral.
The first collage in the project, Tower of Babel, is on display in The Royal Academy's Summer Exhibition, running from 14 June to 22 August.
Edinburgh Council's culture convener Deirdre Brock said the project would culminate in a "superb" exhibition next summer.
Mr Mach said the Bible was all about communication.
He said: "The King James Bible communicated its message so effectively that its language still resonates through our speech to this day.
"Today we live in an age of sophisticated mass communication and yet we still have wars, famine and bigotry.
"To me that represents a failure of communication."
The King James Bible is the popular name for the first version of the Bible published on a mass scale in the English language.