Men admit vandalism at Kirkcudbright cemetery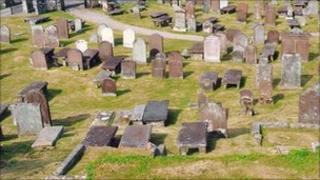 Two men have pleaded guilty to damaging 47 gravestones at a Dumfries and Galloway cemetery.
Christopher Frost, 22, from Dalbeattie, and Alexander McIntosh, 19, from Dumfries, admitted damaging the gravestones at the cemetery in Kirkcudbright on 21 June.
They also pleaded guilty to various offences of malicious mischief to other properties in the area.
They were remanded in custody until sentencing on 12 August.
Following the plea at Kirkcudbright Sheriff Court, Andrew Richardson, district procurator fiscal for Kirkcudbright, said the pair had "embarked on a campaign of drunken vandalism that left the community outraged".
"The trail of destruction they left behind them led to Kirkcudbright cemetery where, most shockingly of all, they had pushed over or caused damage to 47 gravestones," he said.
"Their behaviour showed not only a disregard for property, but a callous disdain for those whose loved one's gravestones were damaged, and for the rich history of Kirkcudbright itself.
"I hope that their conviction for these crimes brings the people of Kirkcudbright some relief in knowing that justice has been swiftly done."