Police identify memory loss man found in Edinburgh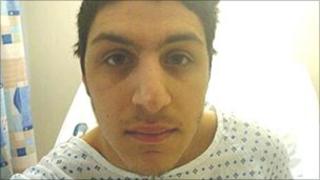 A man found in an Edinburgh street with a head injury and memory loss has been identified after a police appeal.
Officers had issued a picture of the man in the hope he could be reunited with his family and friends.
Lothian and Borders Police said he had now been named as Eugene Chousein, 22, from Cambuslang, Lanarkshire.
A taxi driver had discovered Mr Chousein lying in the middle of Northumberland Street at about 2300 BST on Wednesday.
Police are still appealing for anyone who was in the area at the time to come forward.
A spokesman said: "We are extremely grateful for the positive response we have had to the media appeals today, which have seen Eugene reunited with his family in hospital.
"The circumstances of how Eugene came to be injured remain unclear, however, there is a possibility that he may have been assaulted and robbed."
When he was found, Mr Chousein had cigarettes and a lighter in his possession, along with some cash, but no wallet, mobile phone or jewellery.
He was taken to Edinburgh Royal Infirmary where he is still being treated.
As a result of his injury, Mr Chousein could not remember how he came to be in Northumberland Street, had no idea who he was, where he lived, or where he comes from.
The police appeal had described him as in his early 20s, 5ft 3in, with a slight Scottish accent but of Asian or Middle Eastern appearance and with a distinctive dragonhead tattoo on his arm.