Fife 'cancer plaster' firm raises cash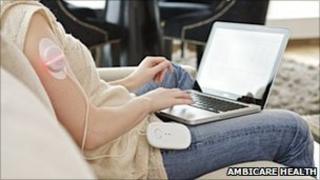 Medical device firm Ambicare Health is to start rolling out its lead skin cancer treatment product after securing £1.7m in a fund-raising exercise.
The Ambulight PDT is a light-emitting sticking plaster used in photodynamic therapy (PDT) for treating non-melanoma skin cancer.
The wearable device delivers treatment directly to a skin lesion site.
The Fife-based company is a spin-out of Dundee's Ninewells Hospital and St Andrews University.
The funding-raising round was led by Longbow Capital, with additional funds coming from the Scottish Venture Fund, DC Thomson and private individuals.
The company said its lead product could free up hospital beds used in traditional PDT treatment and improve patient care.
Ian Muirhead, chief executive of Ambicare Health, said: "Feedback from dermatologists on the Ambulight PDT has been excellent and indicates that we have a product that will make a real difference in how patients are treated for non-melanoma skin cancer."