Beer firm Innis & Gunn makes distribution move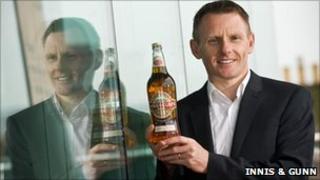 Independent brewer Innis & Gunn is to take its domestic distribution operations in-house as it seeks further success in the beer market.
The move follows strong sales of its speciality beers both at home and abroad.
The new arm will be led by Crawford Sinclair, the Edinburgh-based firm's newly-appointed UK director of sales.
Its bottle-only beer has been distributed by Wolverhampton-based Marstons since 2003.
Managing director, Dougal Sharp, said that the steps would help Innis & Gunn "achieve its potential in the beer market by working more closely with UK customers to deliver consumer-focused growth strategies".
Innis & Gunn recently scooped four awards at the 2010 Scotland Food & Drink Excellence Awards, including "Product of the Year" for its original oak-aged beer and "Business Of The Year".
In March, it reported turnover increased by 31% last year, while exports grew by 63% to £2.84m in 2009. Domestic sales rose by 17% to £1.56m.
The firm announced this year it was setting up in the US where the speciality beer category accounted for 16% of all beer sales.