Cairn Energy sees profits jump in India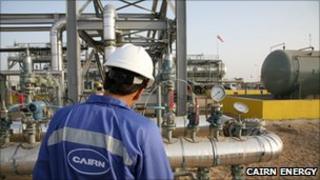 Edinburgh-based Cairn Energy has seen net profits from its Indian arm rise six-fold in the first quarter of the fiscal year.
Cairn India's net profit rose to £38.7m from £6.26m for the three months to June, helped by crude output from its field in western India.
Revenue jumped for the same period to £115.9m from £28.3m.
But its profit figures missed market expectations as depreciation and interest charges climbed sharply.
Cairn Energy, which has a 62.37% stake in Cairn India, recently completed the world's longest heated pipeline to pump oil from its Rajasthan field in India.
The 360-mile-long pipeline took two years and 6,000 workers to build.
Cairn India began output at its Mangala field in the Barmer basin in August 2009.
Average production from the Mangala field in the first quarter was 44,381 barrels a day, it said.
Cairn added output should rise to 125,000 barrels in the second half of 2010.