Kirkcaldy A&E night closures staffing row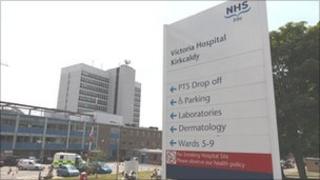 The Scottish government has said staffing is being put in place to avoid overnight closures of Kirkcaldy's accident and emergency unit.
It comes after the health secretary was urged to ensure it receives a "fair allocation" of doctors.
Fife Health Board has announced that the A&E department at the Victoria Hospital in Kirkcaldy had been closed overnight for a second week.
The government said more staff are due to start next week.
Gaps in medical staffing overnight mean the department will be closed between 1700 BST and 0800 BST every night until Friday.
An NHS Fife spokeswoman said: "NHS Fife has announced that despite its continued best efforts it will be implementing its full contingency plan until Friday 30 July.
"The reason for this contingency continues to be due to gaps in medical staffing overnight. Despite concerted efforts it has not been possible to obtain any locum doctor cover.
"Patient safety is our primary concern. Implementation of the contingency plan ensures that clinical services are being provided with safe levels of medical staffing."
She added that anyone who was "sufficiently seriously ill to require an ambulance" will already be taken directly to Queen Margaret Hospital in Dunfermline.
If people are ill during the night they are to contact the Primary Care Emergency Service or NHS 24.
Recruitment issues
Helen Eadie, Labour MSP for Dunfermline East, said: "This is not an acceptable situation and the Health Secretary Nicola Sturgeon must intervene.
"Patients who rely on the Victoria Hospital are being let down as the closures are now running into a second week."
Minister for Public Health Shona Robison said officials had been having ongoing discussions with the NHS Fife and she had been assured all options were being explored to bring this situation to a close as quickly as possible.
She added: "As a result it has been confirmed to me that NHS Fife has a new intake of junior doctors in medicine and A&E starting on 4 August.
"NES, which recruits on behalf of health boards, has confirmed that NHS Fife's medical rota will only have one gap, for which a locum has been identified, and its A&E rota will be over 90%.
"Having those full staffing levels in place will allow NHS Fife to maintain its services without the need for further contingency."