Edinburgh Airport unveils £40m expansion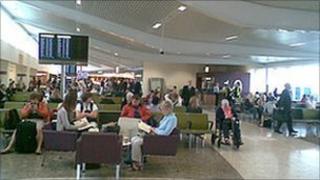 A multi-million pound expansion of Edinburgh Airport has been officially opened.
The £40m departure lounge and security hall will support up to 150 retail jobs and is part of a 10-year revamp plan.
It will also allow the airport to expand from handling nine million passengers every year to an expected 13 million by 2013.
The celebration comes amid mounting protests over a £1 drop-off charge planned to be introduced this autumn.
Scottish Finance Secretary John Swinney, who performed the opening, said: "Edinburgh Airport is a key economic asset for Scotland's capital and beyond.
"This new investment demonstrates the ambition we share with Edinburgh Airport to further strengthen Scotland's international connection."
Gordon Dewar, Edinburgh Airport's outgoing managing director, said: "We are committed to this ambitious programme.
"Despite the current hardships our industry faces I believe it is right to invest now in expanding the terminal building."
Full expansion
The airport's revamp is aimed at developing it into "one of the most modern gateways in Europe".
Operators BAA said Edinburgh was the only UK airport to grow in passenger numbers last year and the expansion in facilities would help it meet forecasted growth.
It said the project was positive for Edinburgh's economy and for business across the whole of Scotland.
The full expansion is due for completion in spring next year but it will open in phases during 2009 and 2010.
Travel agents and politicians have added their names to a 3,000 signature petition against the so-called "kiss and fly" drop-off fee which the airport argues it needs to improve parking at the terminal.