Ferret family dumped on wasteland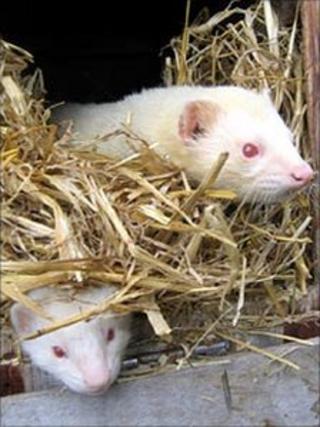 Animal welfare officers have warned pet owners they face "stiff penalties" for dumping their animals after a family of ferrets were abandoned in West Lothian.
The parents and three babies were found in a pet carrier on waste ground in Bo'ness by a member of the public.
They were found near Kinneil Nature Reserve on Wednesday 21 July at about 1300 BST.
The Scottish SPCA's Highlands and Islands animal rescue centre in Inverness are looking after them.
Ambulance Driver Jenny Hamilton who picked them up said: "The family of ferrets had been dumped in a pet carrier and the door of the carrier was opened out into some bushes, probably with the intention of them running off into the wild.
"However, the three babies had remained in the safety of the carrier and mum and dad stayed nearby so I was able to collect them all quite easily.
"The ferrets were in good overall health and the parents were quite friendly, which would suggest they are well-handled pets.
"It may be that whoever owned these ferrets either didn't know they had a male and a female or didn't bother to get them neutered.
"It's cruel to have simply dumped these ferrets in the woods. They are domestic pets, not wild animals and they don't have the skills to survive on their own."