Work starts on £85m EICC expansion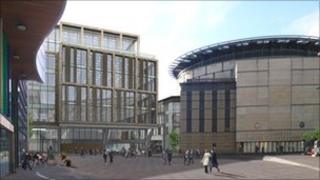 Work has started in Edinburgh on one of Scotland's largest construction projects.
An £85m expansion of the Edinburgh International Conference Centre (EICC) will include the creation of a 2,000 sq m multi-purpose hall.
The project, which could employ 250 people during the construction phase, is due to be completed by 2013.
The development is a partnership between Edinburgh City Council, Scottish Enterprise and the EICC.
Edinburgh City Council leader Jenny Dawe said: "Experience tells us that when we invest in EICC we are investing in the future prosperity of the city and, with a £2.3bn return forecast over the next 30 years, our long-term investment is safe and sustainable through and beyond the current economic downturn."
Sir Robert McAlpine is building the extension, which will require 3,300 tonnes of steelwork for the super-structure. About 120,000 tonnes of material will also be removed from the site during the excavation stage.
The multi-purpose hall will include a bespoke moving floor system which can be altered to create a flat-floored exhibition, tiered banqueting, an auditorium and an arena.