Work starts on £1m Edinburgh Airport drop-off fee area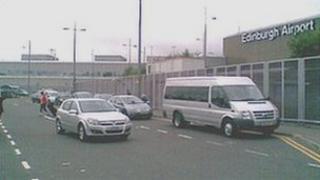 Work has begun on the £1m drop-off area outside Edinburgh Airport's terminal.
A contractor has been appointed and orders have been placed for barrier and pay machines, new signs and LED lights.
The drop-off area, which is being built to allow for 60 cars, is due to be completed in October.
Gavin Brown, Conservative MSP for the Lothians, said he was "annoyed" that contracts had already been signed for the work to begin.
Edinburgh Airport's managing director Gordon Dewar, who is backing the scheme, is leaving the post on Friday to be replaced by Kevin Brown.
The Lothians MSP, who is against the drop-off fee, told the BBC Scotland news website he wanted to know when the contractor had been signed by the airport.
He said: "I would be very interested to know if contracts or agreements were signed before the story broke in July because at that stage the airport claimed it was consulting on the proposal.
"I think constituents will be annoyed, as I am, to hear that contracts have been signed for this deeply unpopular measure.
"I would urge the new managing director to listen to passengers and scrap the drop off charge as soon as possible."
An Edinburgh Airport spokesman said: "A contractor for the work has been appointed and is currently preparing for the necessary works to have the facility ready for an October opening.
"This includes placing orders for barrier and payment equipment, new signs and LED lights."