Fruit machines are installed as art work on beach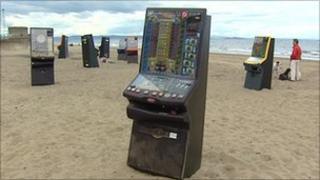 An art installation of fruit machines on Portobello Beach will represent a community group as part of this year's Edinburgh Art Festival.
'Black Swan', by artist Miles Thurlow, is a temporary public art work commissioned by a public art group.
The group, Big Things on the Beach, said the installation included 13 flashing fruit machines.
It will be launched at 1400 BST on Saturday 31 July at the foot of Kings Road in Portobello.
The art work is named after the Black Swan Theory, which tries to explain the existence of high-impact and rare events that lie outside the realm of expectations.
It is on display until Sunday 5 September as part of the festival.
Big Things on the Beach was formed by a group of Portobello residents in 2003 to explore the potential of the seafront as a site for engagement with public art works by both emerging and established artists.