Jazz and blues festival kicks off in Edinburgh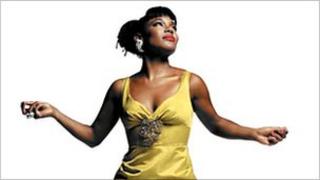 MTV presenter and jazz chanteuse China Moses is to make her first appearance at the Edinburgh Jazz and Blues festival.
Moses will perform with French pianist Raphael Lemonnier in her only UK concert this year.
Chicago's Hypnotic Brass Ensemble, who perform on the latest Gorillaz album, are also playing.
The festival, which started on Friday, ends on 8 August.
Hypnotic Brass Ensemble, who earned accolades for their performance at last year's Glastonbury Festival and on BBC's Later With Jools Holland, will play at the new Assembly venue at Princes Street Gardens.
Fife-born Joe Temperley returns to conduct the the festival's orchestra in a celebration of the music of American jazz pianist, Count Basie.
Temperley, 80, will also be leading a jazz swing concert along Bob Wilber and Scott Hamilton.
This year the festival hosts two world premieres. Tom Bancroft's Scottish jazz street event, Clandemonium, takes place in Parliament Square.
Bancroft is inviting volunteer drummers, dancers and kazoo players to join in the event.
The second premiere is 'Naturally Inspired', a collaboration between the Storytelling Festival and the Mela, which involves a day of planned and impromptu events, in Edinburgh's Royal Botanic Gardens.
Thrill audiences
A celebration of 60 years of Edinburgh jazz will take place throughout the festival with 18 concerts, from Sandy Brown's 50s jazz to performances from Kevin Mackenzie, Martin Kershaw and the youthful jazz of Ruaridh Patterson.
The multi-Grammy nominated Alvin Youngblood Hart, admired by Bob Dylan, Eric Clapton and Mick Taylor, will make his first appearance at the festival.
Fleetwood Mac's Peter Green and friends are set to play at The Picture House on 2 August.
Brian Fallon, chairman of the Jazz Festival Board, said: "We're delighted to continue to expand the festival and to bring so many high quality artists to Edinburgh to delight and thrill both local audiences and visitors."
The Edinburgh Jazz and Blues parade on Saturday starts at 1230 BST at the Edinburgh City Chambers on the High Street before travelling to the Grassmarket for a mardi gras until 1600 BST.