Mel C appearance at Edinburgh Jazz Festival defended
By Angie Brown
BBC Scotland, Edinburgh and East reporter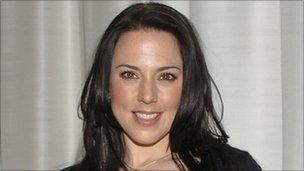 A former Jethro Tull musician has defended his decision to have ex-Spice Girl Mel C make a guest appearance at his Edinburgh Jazz Festival show.
Peter Vettese said he "couldn't care less" that some jazz aficionados would think it was "sacrilege" he had invited a pop star to perform at the festival.
He said Mel C had the skill and ability to sing with him at his Wednesday show.
Vettese, who played with the rock band in the 80s, said Mel C was taking the event "very seriously".
The West Lothian musician, 53, told the BBC Scotland news website: "There will be jazz aficionados that think it is sacrilege for someone from Mel C's background to be performing at the jazz festival.
"But I couldn't care less about what they may or may not say.
"I am interested in being able to give the opportunity to play for those who might not accept someone from Mel C's background.
"My life has been about a progression from a young jazz player to now embracing pop, rap and R&B. Jazz is spontaneous, melodic improvisation based upon known harmoniously-substituted progressions.
"What Melanie does is done seriously and how seriously one takes her is the responsibility of the one who is listening.
"Her voice is instantly recognisable, she is a great singer and a delightful individual."
Peter Vettese is playing on Wednesday at 1800 BST at Assembly at Princess Street Gardens.