Illegal immigrants found in lorry bound for Bathgate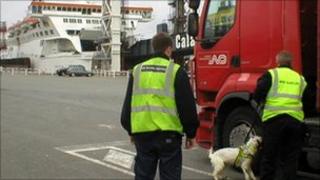 Four foreign nationals have been prevented from illegally entering the UK in a lorry load of sweets heading for Bathgate, it has emerged.
The stowaways were discovered by UK Border Agency officers in Calais, France.
They were assisted by a specially trained detection dog called Wax.
Four Eritreans were discovered on the Greek registered lorry when the officers stopped it on Wednesday 28 July at 0330 BST.
Two men and two women were removed and handed over to the French authorities and the lorry and the load were allowed to continue.
The drivers and haulage company concerned now face a potential fine if they are unable to prove they took steps to secure the vehicle.
Carole Upshall, the UK Border Agency's Director for European Operations, said: "Finds such as this one highlight the determination and expertise required by UK Border Agency officers to stay one step ahead of illegal immigration."
Ms Upshall said in 2009 the UK Border Agency stopped more than 29,000 individual attempts to cross the channel illegally and searched more than one million freight vehicles.
"The UK Border Agency's strong presence at the frontier, not only in the UK but also in northern France, helps protect the whole country from people illegally entering the UK and then heading for towns across Britain - in this case Bathgate," she added.