Donaldson's school could become a five-star hotel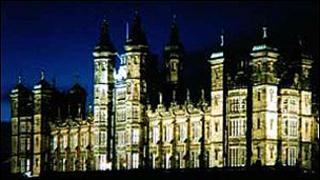 A former school for the deaf in Edinburgh could become a five-star hotel, according to site owner Cala.
The Grade A listed Donaldson's School for the Deaf, by Sir William Playfair, was completed in 1851.
Donaldson's trustees agreed to sell off the Haymarket site to a developer for £15m in 2003.
The building became available for redevelopment in 2008 after a new school, Donaldson's College, opened in West Lothian.
A spokesperson for the property developer Cala confirmed the group have had interest in the site and its potential for development as a five-star destination resort.
"The nature of the Playfair building and its immediate environment could be attractive to a hotelier, and it is well-suited for hotel use," he said.
"And the majority of the bedrooms would be to the rear of the site in line with the existing planning permission for residential use."
At the moment, the interest is at an early stage, according to the spokesman.