Council to free up housing space in Edinburgh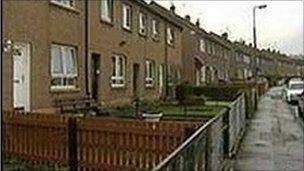 Council tenants in Edinburgh could benefit from up to £1,000 in a pilot scheme to tackle under-occupied homes.
Research has shown that about 5% of council homes - more than 1,000 in the city - are under-occupied.
People in homes which are too large for them are being encourage to downsize apply for the cash to help cover moving costs, decorating and floor coverings.
The council hopes the £50,000 scheme would free up homes for families living in overcrowded accommodation.
The idea, which came from the Tenant Incentives Working Group set up by the council, will be discussed on 10 August at the Health, social care and housing committee meeting.
Betty Stevenson, who chairs the Edinburgh Tenants Federation, said: "We hope this cash incentive will help people living in bigger homes move to more suitable ones."
Councillor Norman Work, vice convener for housing in the city, said: "It's very frustrating that we have rooms lying empty in some of our larger council homes whilst other families are living in over-crowded accommodation.
"We hope that this pilot project will act as an incentive for tenants to move and free up much-needed family accommodation."